Students Win Girl Scouts Gold Award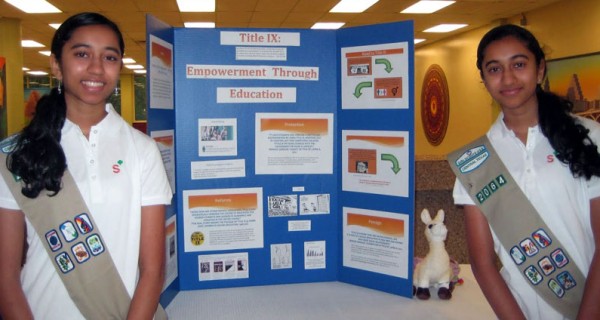 By Khira Patel, Heritage Portraits & Ads Editor
December 11, 2014
Hang on for a minute...we're trying to find some more stories you might like.
Kavya and Priya Ramamoorthy '16 recently achieved their Gold Award in Girl Scouts.
After a dedicated 6 years with Troop 2064 in the Westwood Service Unit, they were able to receive the highest award a Girl Scout can earn.
The Gold Award requires each Girl Scout to create an individual project that involves designing and implementing a sustainable project in their community. The process is rigorous and requires a written proposal, approval, and implementation of the project. Also, students must  account for the time spent on various tasks and include a written final report in which the students must reflect on the impact their project had on them and the community they served.
Kavya and Priya both created short documentaries about Title IX for their projects. Title IX is federal law that prohibits the discrimination on the basis of gender in schools that receive federal funding.
"I created my documentary for the No Place For Hate chapter at Grisham," Priya Ramamoorthy said. "I focused on the protection aspects that Title IX gives to students with regards to prohibiting discrimination and bullying based on gender."
Kavya created her documentary for RRISD about Title IX's history and how the law connects to higher education. She has been given the opportunity to have her work used as a resource by high school teachers in RRISD for the Title IX TEKS requirement in 11th grade history classes.
Both of their ideas stemmed from a National History Day Project that they created in 8th grade with their friends Maanasa Nathan '16 and Smrithi Mahadevan '16.
"From learning about TItle IX, we were inspired to spread awareness of this important law to kids our age," Kavya Ramamoorthy said.
Completing their award took over 80 hours of hard work and perseverance. They received assistance from their respective sponsors involved with the chapter of each of their projects: Mrs. Pat Kahn (past coordinator for Grisham's No Place For Hate) and Ms. Tina Melcher (social studies coordinator for RRISD). The pair was also able to connect and receive help from the American Association of University Women members.
The Ramamoorthy's work distinguished them as Title IX Champions by the American Association of University Women.
From their work in pursuing and advancing gender equity, they, along with Maanasa and Smrithi, also received a $500 Myra Sadker Student award for their work in pursuing and advancing gender equity.
This project has inspired the girls to continue their work with Girl Scouts in the future.
"We would like to mentor younger Girl Scout troops," Priya Ramamoorthy said. "Currently, we participate in a summer Day Camp for Girl Scouts every summer and plan to continue that."
Not only has the Gold Award served as a learning experience, it has spread awareness to the sisters about the hard work advocates had to fight for in order to implement the reforms of Title IX.
"We developed a stronger sense of self, developed critical thinking skills and feel more connected to our community, locally and globally," Kavya Ramamoorthy said. "Through our Gold Awards, we feel empowered to make a difference in the world."