Women's History Month: Lady Bird Johnson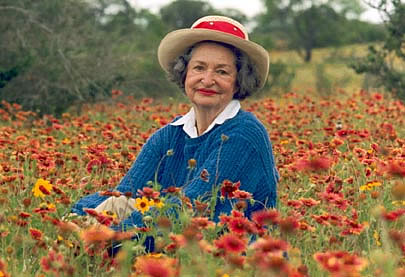 Hang on for a minute...we're trying to find some more stories you might like.
This March, as we celebrate great women throughout history, we want to highlight one Texan woman in particular who had a lasting impact on the political campaigning process: Lady Bird Johnson. Along with being former President Lyndon B. Johnson's wife and the 36th First Lady to the United States, Mrs. Johnson was instrumental in former President Johnson's political career, and would continue her work after her time at the White House and even after his death.
Mrs. Johnson grew up in Karnack, a small East Texas town. After she graduated from University of Texas at Austin with a Bachelor of Arts degree with a major in history in 1933, she went back and earned a journalism degree in 1934. She married former President Johnson that same year, after only two months of dating.
Many say that Mr. Johnson wouldn't have had anything even close to the amount of political success he had if not for Mrs. Johnson. She had a large inheritance and used it well. She was a huge part in his political career after funding for Mr. Johnson's campaign for Congress. She fought for him and his policies by traveling independently across the country and advocating for his election, his policies, and her own political goals. While Mr. Johnson was serving active duty in the Navy during World War II, she managed his office. She was always ready to champion his work and aid however needed.
In 1942, Mrs. Johnson used the rest of her inheritance to purchase KTBC, a small radio station in Austin that had no network connections or nighttime franchises and was in debt to several banks. 20 years later, the station had become a multi-million dollar radio and television enterprise under the guidance of Mrs. Johnson.
Mrs. Johnson's most famous works in her life were her  environmental projects, such as the Highway Beautification Act and the National Wildflower Research Center in Austin, Texas. Her reputation as an ardent environmentalist set a foundation for federal environmental focus, as well as having a massive impact on local communities — for example, in 2007, the City of Austin renamed Town Lake to Lady Bird Lake in respect of all she had done to beautify and facilitate accessibility to the local reservoir.
Mrs. Johnson also chronicled her time in the White House and published parts of her writing in A White House Diary. This was an 800 page book which included her narrative of historical events such as former President John F. Kennedy's assassination, The Great Society's war on poverty, the American Civil Rights Movement, and the Vietnam War.
"Lady Bird Johnson was a caretaker for the environment," Mrs. Senning, a Biology and Pre-AP Biology teacher said. "She created a beautiful wildlife center in Austin that affords people opportunity to go visit and enjoy the beautiful native plants that Mrs. Johnson focused to protect and preserve."
Mrs. Johnson was a woman who may have not been what most think of when they think of strong-willed women to celebrate, but she used her political power to bring into light environmentalism, civil rights, and poverty, which is still prevalent today. She was a huge influence on how the United States' highways and many other parts of America's outdoors look today.