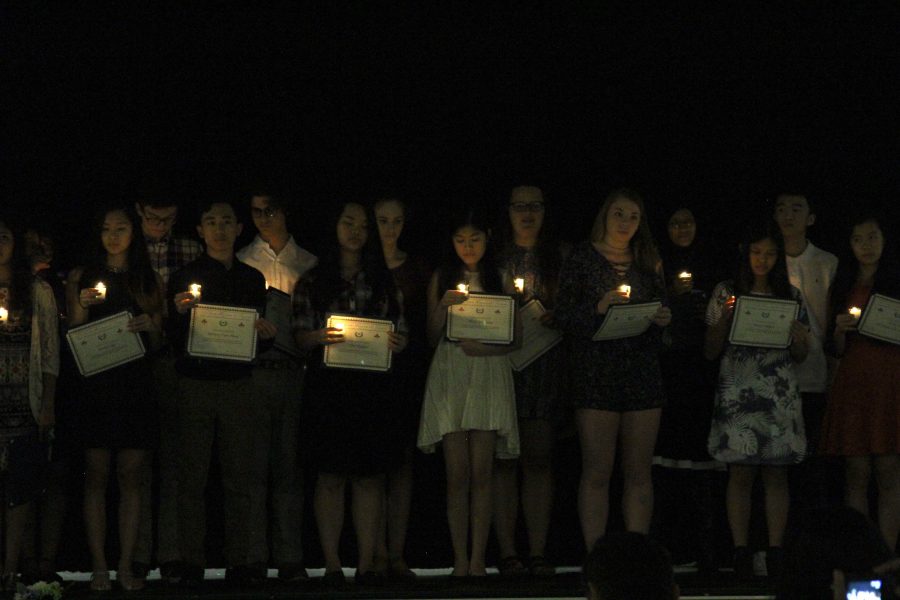 Donatella Voss
After long hours of preparation, printing programs and scripts, buying supplies, and holding rehearsal meetings, the National French Honor Society (NFHS) held its induction ceremony on Monday, Feb. 27 at 7 p.m.. New inductees were chosen based on their ability to lead and contribute new ideas, as well as their grades from previous semesters.
"The forty-two students who were inducted have demonstrated qualities of initiative, reliability and leadership through their studies," french teacher Ms. Anne Macharia said. "It is very important to recognize their hard work with this induction ceremony."
Parents and friends of inductees were invited to attend the ceremony, which began with a speech from sponsor Ms. Macharia and NFHS officers. Traditionally known as "La Course du Flambeau," or "The Torch Run," the induction involved lighting candles to represent the transmission of knowledge from one generation of students to another. Following the recitation of the NFHS pledge, the French national anthem, La Marseillaise, was performed by treasurer Anne Chow '17 and vice president Vaishnavi Sankar '17 on the piano and violin. A reception was offered after the induction, with treats offered from la Madeleine, a well-known French bakery.
"I think it went very well — my officers did an excellent job and I am very proud of them," Ms. Macharia said. "They each had an important role during the ceremony."
As a part of NFHS, new members will have the chance to participate in volunteer activities and tutor other French students.
"I was really excited because I've been taking French for three or four years now," Ekaterina Raleigh '19 said. "I love interacting with other people and I feel like this will be a type of small community that will enhance that."
The first meeting for newly inducted members will be held on Monday, March 6, and officer elections will take place during April.
"The goal of the NFHS is to foster and encourage the study of the French language and culture," Ms. Macharia said. "I look forward to their ideas on how we will continue to promote the French language and francophone cultures at Westwood and in our community."
The full list of 2017 NFHS inductees can be found here.