Alisha Rawal '19 Awarded Gold Seal for Artwork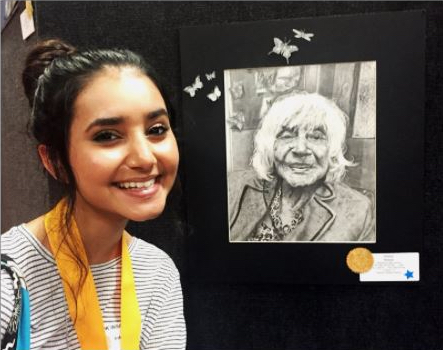 Hang on for a minute...we're trying to find some more stories you might like.
Art students convened in San Antonio on April 29 to participate in the annual Visual Art Scholastic Event (VASE). While there, the art that students had created were judged. Out of over 3,200 entries, 10 students were awarded Exemplary Medals, and Alisha Rawal '19 received the highest honor, a Gold Seal, for her portrait, Dear Emma.
"It was a really good feeling," Rawal said, "because the drawing I did that won the Gold Seal took a really long time and required a lot of tedious work that wasn't really fun to do but had to be done to make it look realistic. To see all of that pay off was satisfying."
Dear Emma is a portrait of an older woman named Emma who Rawal had met at an elderly home. Despite having dementia, Emma's most prominent feature to Rawal was her vibrancy and continuing excitement for life. Rawal drew the portrait as a letter to Emma to explain how she saw her when she first met her.
"She had bright white hair," Rawal said, "and that was a symbol of her personality. They'd play music and she'd get up and walk with her walker and dance around. I wanted to capture the youth that was still present despite her age."
Rawal first took art in sixth grade as an elective. However, she didn't realize her passion for it until she was in eighth grade when she discovered to the street artist, Banksy, who creates art through vandalism with a positive purpose. Inspired by Banksy's philosophy, Rawal left anonymous drawings of the Beatles that she had created in honor of that year's Canyon Vista Choir Spring Show theme in the choir room as her own act of positive vandalism. Soon after, Rawal was working with the choir director to paint the backdrops for the show.
"After that, I realized this was my passion," Rawal said, "and I realized the impact art can have in creating connections between people. And honestly, art is what ignites passion. [People pursue] science and technology to solve problems, but what gives people the drive to solve those problems? It's art. You don't donate to cancer research because you hear a statistic, you donate because you hear someone's story. That's what art means to me, it's making stories to impassion people."
For college, Rawal dreams of getting into the Accademia Italiana, an art academy in Florence. She also hopes to become an animator and work with concept art to bring greater diversity to the animated children's movies.
"I just feel that as a kid, you look for things that you can look up to," Rawal said, "and when you're in a minority that can be difficult. I want to work in an animation studio and to be able to change that and create art and stories that will reach a broader audience of humanity. I feel like that's impactful. Art is about igniting passion within yourself and within other people, creating connections between the abstract and the physical world, and making life worth living."
Overall, the VASE competition was a success for all of the participating students. To view the winning pieces, click here.