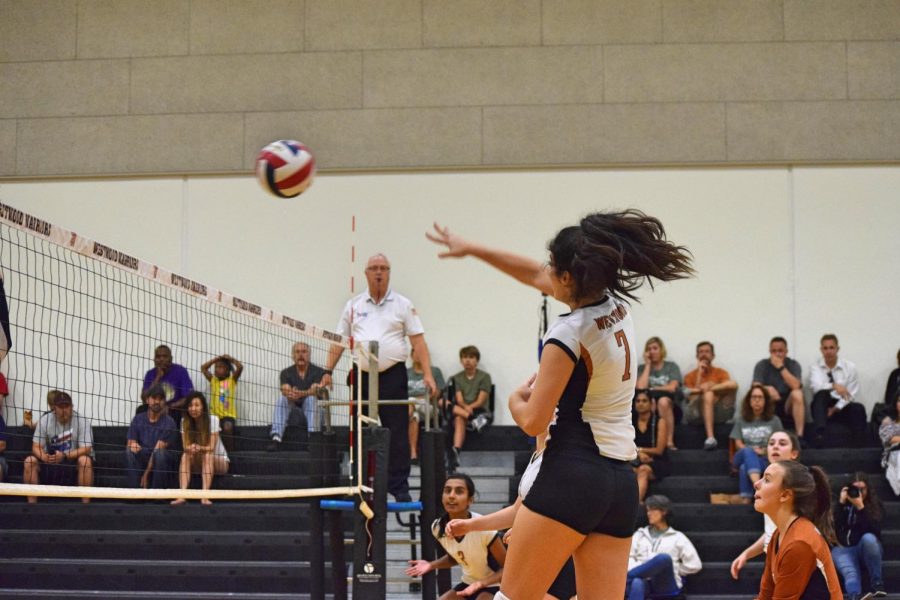 Kathryn Markovitz
In their third district game of the year, the freshman volleyball team narrowly lost to the Stony Point Tigers 1-2.
The Warriors got off to a solid start in the first set, taking the lead 3-0 with an ace by Teddie Hall '22, a tip by Sarah McCaughey '22, and a long rally finished by the Tigers hitting it out. After a brief comeback by Stony Point, the Warriors went on another run to take the lead 9-4. Scores included a spike and an ace by McCaughey. Though the Tigers tried to recover, the Warriors kept their lead at a minimum of three points at all times with a spike by Isabel Garcia '22 and three aces by Kaci Ponsart '22. The Warriors even got their lead up to six when the score was 17-11 and 18-12. Unfortunately, Stony Point got back in the game with a couple aces and soon the score was 18-16. The lead then switched back and forth while Aria Hegde '22 and Sumedha Jayagopal '22 made great saves to keep the Warriors in the game. Finally, after the teams drew even at 22-22, the Warriors ended the set 25-22 through some long rallies and great saves.
"We played really well in the first set," Hegde said. "I think our energy was really high and we were getting to the ball."
In the second set, the Warriors lost the first two points but won the third with a save by Aditi Reddy '22 to setting up a spike by Ponsart.  A couple of points later, Camille Marshall '22 made a great save to set up McCaughey for a successful attack that made the score 4-2 in Stony Point's favor. Though the Warriors tied it up at 4-4 and 6-6, the Tigers began to pull away despite Marshall making a couple of diving saves. The Warriors finally recovered with a spike and attack by Sophia Pope '22 that halted the Tigers' run at 14-10. The Warriors then brought the difference to one at 15-14 with an ace by Jayagopal followed by a block by McCaughey. Despite the Warriors' best efforts and a spike by McCaughey to keep it close, Stony Point rallied and finished the set in a dominant fashion, ending it 25-17 with an ace.
"I'm not a serious person but when it comes to volleyball, I'm really serious and I don't hesitate to dive for saves," Marshall said. "My mind's just like go, go get it."
The third set started out very close as both teams seemed to take turns scoring points. The Warriors fell behind 3-1 butHall setting up McCaughey for a spike followed by McCaughey serving an ace kept the two teams even. At 7-7, the Warriors pulled away, scoring seven points in a row. This sudden run was fueled in part by Hall serving three aces. But after a timeout, the Tigers made a comeback to close the gap to two points at 16-14. Digging deep, the Warriors went on another run to make it 21-14 that included an ace and attack by McCaughey and a tip by Garcia. Sadly, Stony Point found a rhythm and closed out the game with a run of their own that culminated in an ace to end it 25-22.
"It could've gone better, a lot better. We played hard until the end but then we kind of gave up," Hall said. "I think we need to move the ball more and work on our confidence and communication."
Coach Makenzie McGalliard agreed that there is room to improve and thought the game gave some insight into what they need to work on.
"I thought it wasn't our best game and we definitely could've played better. I thought we served really well and I thought we had good energy," Coach McGalliard said. "I think that this game showed that there are a lot of things we have to work on in practice and we need to learn to work better as a team so that in future games we don't make so many mistakes."
The Warriors will return to play the Cedar Ridge Raiders on Friday, Sept. 7.