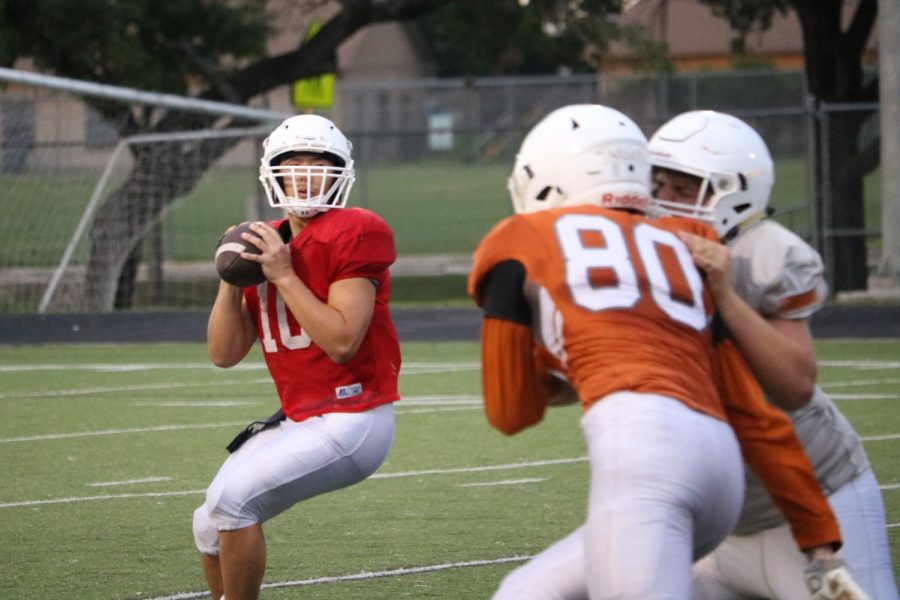 Vikram Joshi
After weeks of preparation, the varsity football team played their annual scrimmage on Tuesday, May 14. The final score was 45-45, which included additional points awarded for successful maneuvers.
The first quarter was somewhat uneventful, with each team unable to score thanks to strong defensive efforts. However, in the second quarter, the Orange team broke through to score the first touchdown of the game. They followed up with two more before halftime, ending the first half with a score of 21-0 in their favor.
"I'm excited for next year," RJ Martinez '21 said. "This spring was good for all of our young guys to get experience. We have good defense so I think next year fans should be excited."
The third quarter began with Jack Ryan '21 on the Orange team catching an interception, which allowed Martinez to score a touchdown on the ensuing possession. A few minutes later, Orange struck again as Martinez passed the ball to Jace Lyne '20 for another touchdown. Before the quarter's end, Nick Delgado '21 recovered a fumble made by Devin Green '21 and Orange scored another touchdown. This high-scoring quarter showcased the explosive capability of the Warriors' offense.
"I think this scrimmage has shown us what we need to work on and also what our strengths are," Robbie Jeng '21 said. "I think we have a lot of potential and a good shot at winning district next year."
During the fourth quarter, the White team was awarded 21 points for additional maneuvers, and then 24 more. The Orange team received 3 points for their maneuvers, ending the game with a tied score of 45-45.
"I'm really excited about the upcoming season," head coach Anthony Wood said. "I think with the experience that this group brings back from last season's 4-16 [record], it has the ability to achieve our goal, which is to make the playoffs and be playing on Thanksgiving day."
The first game of next year's season is against the Eastview Patriots at Georgetown Stadium on Friday, Aug. 31.