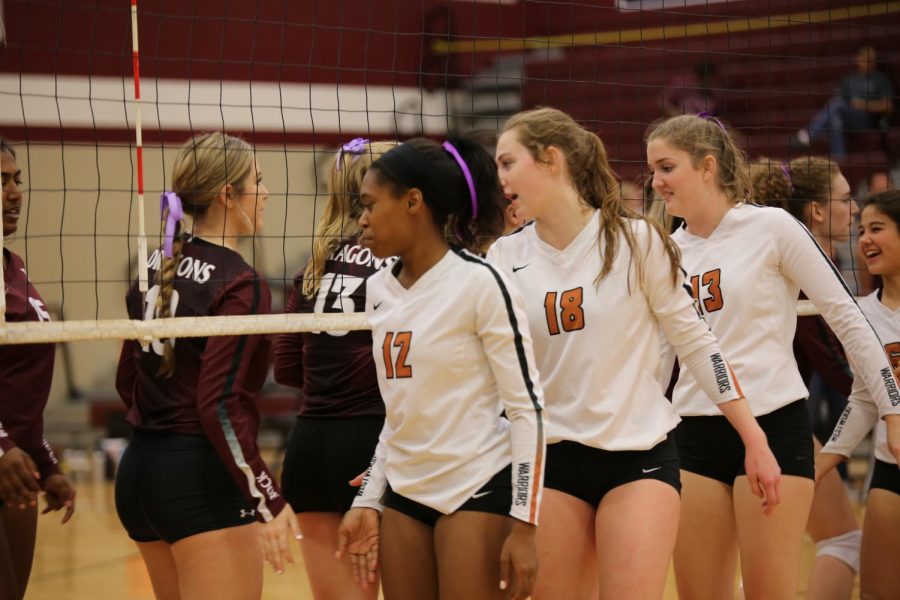 Hayden Swanson
The varsity volleyball team played their rivals, the Round Rock Dragons, on Friday, Sept. 27, and won 3-0. The Warriors breezed through the first two sets and put everyone on the edge of their seats for the close third set. 
"We had a tough practice yesterday which really paid off, and certain drills we ran really helped us pull that win out," Kenzie Beckham '21 said. 
Round Rock started off scoring the first two points, but Audrey Quesnel '20 spiked the ball over the net and got the first of the Warriors' many points. Abi Rucker '20 hit the ball over the net in a great play, and the Dragons dove to save it but failed to get there in time. Later, Beckham saved the ball that was inches from the ground, and the Warriors won the first set 25-16.
"I felt very nervous towards the end but I knew that we would all pull it together and come out on top," Peyton Ferree '22 said. "They are our rivals so we came out ten times harder than we would normally, and we did not want to take this to more sets than needed."
Quesnel got the first point of the second set and the Warriors took the lead, but the Dragons began to catch up. Abby Gregorczyk '21 tied the game with a serve that the Dragons missed, and won the set with a spike, 25-20.
"I think the game went really well, we did a really good job working as a team and finding the fight to win, so I'm really proud of all of us," Zoe Menendez '20 said. "I think I did a good job limiting my errors and placing the ball where it needed to be."
The Warriors started strong but the Dragons, realizing they needed to win this set, pulled far ahead of them. Menendez slammed the ball over the net and got the Warriors a point, but Round Rock continued to pull ahead to 24 points. The team, refusing to be beaten, made 7 points in a row and Ferree hit the ball over and won the game for the Warriors 26-24. 
"We had a rough game on Tuesday. We won, but it wasn't pretty, so the big focus of the week wasn't necessarily preparing for Round Rock, it was focusing on our side," head coach Tara Grant said. "When you're down seven points, it's easy to shut down, but they dug in deep and ultimately we prevailed, I wasn't expecting that, and my team continues to surprise me every match."
The varsity ladies will take on the Stony Point Tigers next on Tuesday, Oct. 1 for Faculty Night.