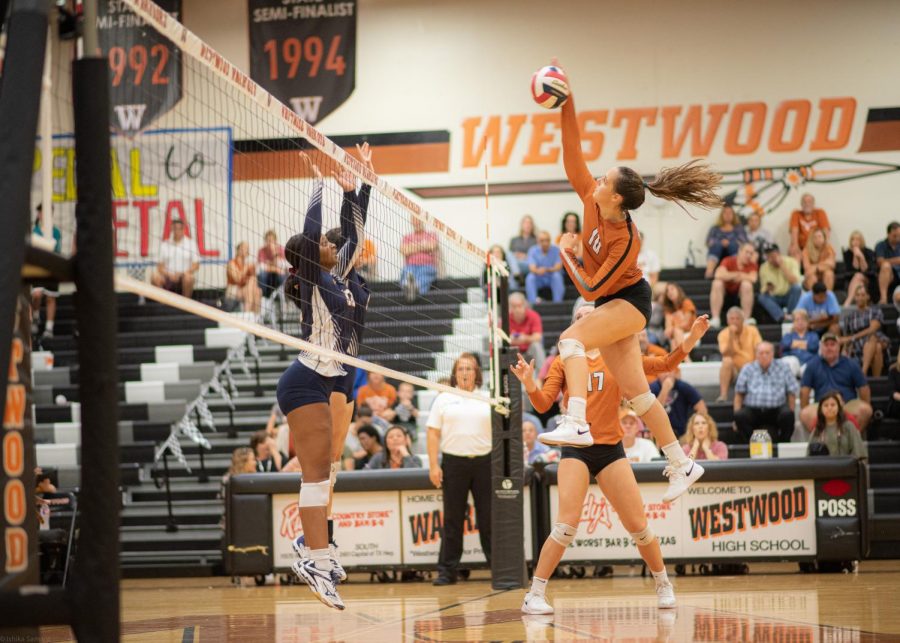 Ishika Samant
The varsity women's volleyball team dominated Stony Point High School on Tuesday, Oct. 1 at home with a final score of 3-0. Large crowds came to support them as they were triumphant in three sets.
"I think that we didn't play down to their level and we kept as our own level of energy and our level that I know we can, and we showed them that on the court tonight," outside hitter Abby Gregorczyk '21 said. "It's hard to beat a team twice because it's our second round now, we really just brought it up to the next level."
Starting off strong, the Lady Warriors were first to score in the first set, immediately bringing the score to 10-4. Throughout most of the first game, the continuous support from the Student section hyped the team up, leading them to feel powerful and supported. Stepping up to further the success, middle blocker McKayla Ross '22 lead her team to a score of 20-7. 
Launching into the second set 8-2 with their excellent communication and setting the ball perfectly, later continuing with a score of 22-12 with powerful hits to each incoming ball. Changing their strategy made it nearly impossible for the Tigers to keep up. Continuing with their momentum and consistency, the Warriors finished stronger and with more energy than ever, ending the set 24-16. 
"I definitely say being able to pull out at the end and clean up how we pass and such was the highlight of tonight," Ross said. "We stopped them from catching up and took full control of the game." 
The final set of the game began with the Tigers serving, but Ross scored the first point for the Warriors with a kill down the middle. The Lady Warriors pulled ahead with kills from their middle blocker and setter. Gregorczyk stopped returned each ball with more strength as she went for kills along the line. Outside hitter Peyton Ferree '22 jumped in for a couple points to further her teams' success while also cheering non-stop as the consistent aces rocketed over the net. Within the final set, the Warriors came through, dominating the court and their rivals once again 25-12.
"I think we all came together at the end and we all wanted more energy during every set and we were able to keep them under every point too," Ferree said. "The best part of watching this game tonight was making all of our goals and being able to walk away 9-0."
Join the Lady Warriors for their next game on Friday, Oct. 4 against the McNeil Mavericks at home.