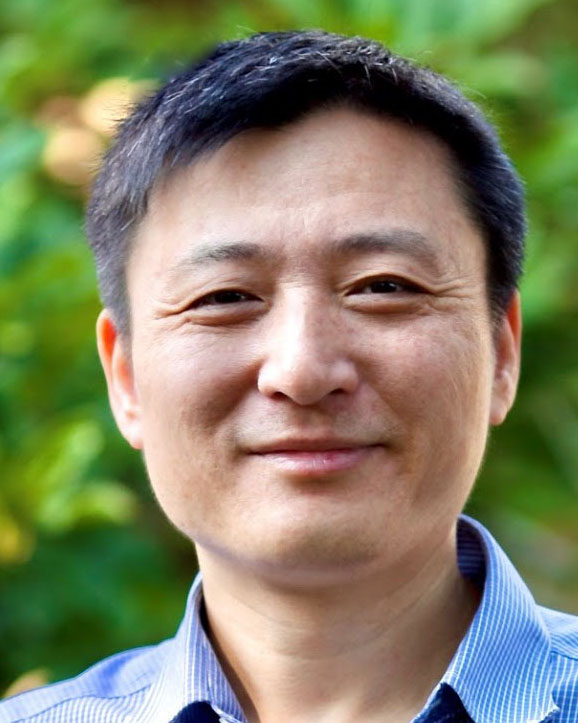 Jun Xiao
Distinctive blue yard signs and posters placed in areas zoned to Westwood all display the same message: Dr. Jun Xiao for RRISD Trustee Place 1, with the words "Diversity" and "Science" highlighted, and the word "Politics" crossed off. As the father of two children in the Westwood learning community, Dr. Xiao has been involved in RRISD for several years now, from attending board and council meetings to being President of the Canyon Vista Middle School STEM organization. A Ph.D. from Georgia Tech and the founder of a biotech company, Dr. Xiao will run against Kim Boen on Tuesday, Nov. 3 for the Board of Trustees, Place 1 position. 
His campaign focuses on diversity, teacher empowerment, and safe education for all during COVID-19. He aims to use his background as a former scientist to create policies based on proven data in order to provide the best school experience for both teachers and students. 
"For decades, we only had bankers, lawyers, realtors, and former teachers on the school board," Dr. Xiao said. "We never had any scientists or engineers. Can they contribute ideas to our public school system? Absolutely. I am the founder and CEO of a biotech company, researching human immune responses from viruses and vaccines. The health and safety of students during COVID depends on us following science and being cautious yet staying fearless."
Dr. Xiao has addressed important issues within Westwood itself, including the implementation of new hands-on classes, and providing more Career and Technology Education (CTE) options for students. He has also discussed closing the achievement gap between students throughout their education.
"I congratulate all Westwood students who recently became National Merit Scholar Semifinalists," Dr. Xiao said. "However, we need to be honest with ourselves. Escalating after-school academic arms races to achieve better scores incur considerable financial and logistic burden to the parents while adding stress on the students. We need to work together to improve the quality of school education."
Dr. Xiao ties school education deficiency to the need for teacher empowerment, citing management practices, and inadequate support for teachers as the reasons for lower quality education. His goal is to provide sufficient resources and for students and teachers in order to elevate student achievement.
"The number one issue we need to tackle at our RRISD community is teacher retention and support. We need to identify and develop talent, create a supportive management environment, study incentive programs, and provide leadership opportunities for the teachers," Dr. Xiao said.
One of the key ideas of his campaign is diversifying the school board to accurately reflect the student population within RRISD. Dr. Xiao hopes to bring ideas and issues from several different groups, including the Asian American community and aspires to become a voice for families without representation. Currently, the Board of Trustees has one Hispanic and six white members, although RRISD's student demographics do not reflect these numbers. 38.2 percent of students are white, 30.7 percent are Hispanic, 18 percent are Asian, and nine percent are African American.
"As a first-generation immigrant, I know firsthand the experience of learning about and navigating an entirely unfamiliar complex public-school system," Dr. Xiao said. "I want to give back to the community I love by making our school board more diverse. RRISD's student population is 18 percent Asian, but in its 100+ year history, we have never had an Asian American on the school board. I plan to work with all the other trustees closely as a team to ensure that every family in the school district, no matter where they come from, has a voice in making educational and administrative decisions."
Dr. Xiao also talked about his plans to engage everyone in the district, even those who haven't been active in school affairs. He wants to make sure that every issue is brought to the discussion table and addressed by the Board.
"In the end, my message to all students in the Westwood learning community is this: be brave, always curious to learn and don't be afraid to try new things, and involve in community and civic affairs. You all can do great things," Dr. Xiao said.
Apart from Dr. Xiao and Ms. Boen, three additional trustees will be elected to the Board this year. Candidates for Place 2, Place 6, and Place 7 include Lacey Mase, Cornell Woolridge, Mary Bone, Russell Winston Collins, Tiffanie Nichole Harrison, David G. Schmidt, Christina Gándara, Jenn Griffith, and Danielle Marie Weston. The Board will bring the perspectives of parents, students, and teachers to the district, and create policies that attempt to accommodate the needs of everyone.