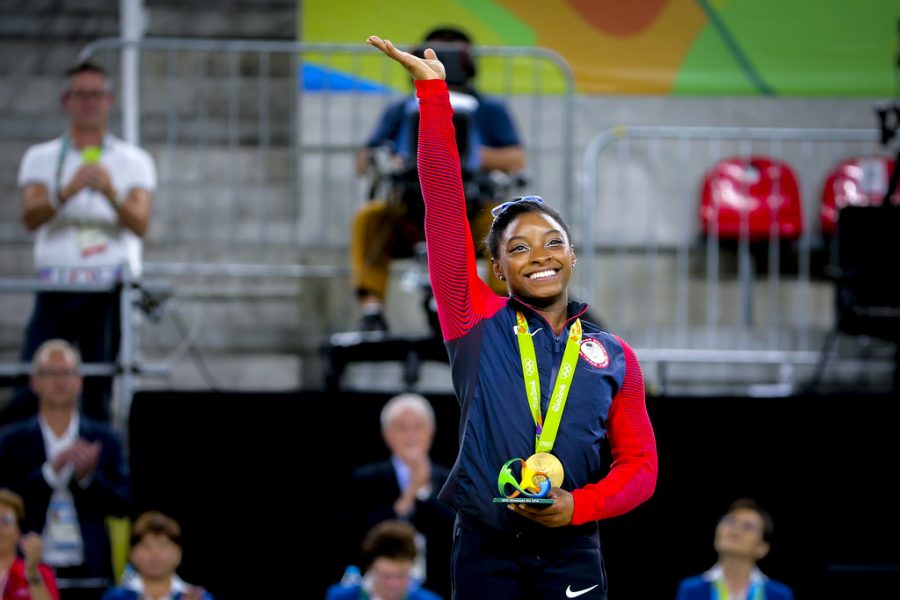 Danilo Borges
As the Olympic summer season approaches, my eyes lie on the athletes preparing for their events. Seeing their hard work and vigorous training finally get showcased to the world after a year of uncertainty provides my mind with a layer of peace and ecstasy. Athletes such as Katie Ledecky, Sunisa Lee, and Sky Brown can finally compete and showcase their skills to a worldwide audience. As I tune in to watch athletes compete in 33 sports, my eyes will be particularly focused on American gymnast Simone Biles. Not only does she compete with a particular fierceness, but she also has redefined the meaning of gymnastics, changing the sport for the better.
Looking back at previous gymnasts, there's no doubt that my jaw isn't left wide open. However, as I keep looking at these athletes in awe, my stomach sickens. These athletes continued to overwork themselves, hiding injuries and maintaining overbearingly strict diets. And while these athletes continued to face these challenges, they were met with a nation that only supported them by how many medals they were decorated with. We saw shining smiles on podiums and shunned away all of the tears and toxicity these athletes faced.
Oftentimes, we don't hear about the painful side of gymnastics until the athletes have retired or harmed themselves in irreversible ways. And when we do hear about these stories, we take it as a one in a million scenario, tricking our brains into thinking that this isn't a common domino effect. After retiring, Dominique Moceanu told the world that she was limited to 900 calories a day on competition days. In addition, she competed in Atlanta with a fractured tibia. Katelyn Ohashi had competed in numerous events with a fractured back and two torn shoulders. She later dropped down from elite-level competitions to compete in college. Kerri Strug vaulted with a ruptured ligament in her ankle and a damaged tendon. Her vault was deemed an "epic Olympic moment," however she was never able to compete again. We continue to see gymnasts on podiums with grim smiles, almost soldier-like. Is this the way we should be defining gymnastics? Should we really prioritize a medal over the health and well-being of these athletes? Being the best may take pain, but there's a fine line between pain and suffering, and it's clear that these athletes have long surpassed this line.
When done right, gymnastics can be a wonderful sport. It is able to connect people all over the world who may not speak the same language or share the same culture. Athletes are able to speak in body movements and compete with gravity-defying skills. As I tune in to watch the Tokyo Olympics, I look at Biles to do just that, and more. Not only does she have the power to participate in new challenging skills, but she also inspires the people around her. Throughout the years, Biles has become a prominent social media personality. She showcases a lot of what she does in her daily life on social media and promotes a healthy, hearty lifestyle. Her Instagram often portrays herself smiling to the camera, perhaps with a pizza in one hand, hugging her boyfriend, or even just hanging out with her dogs. She shows the world that she can have a world outside of gymnastics and isn't confined by the strict rules. She can be the greatest of all time and still have fun, and by doing so, she can also dismantle the unhealthy stereotypes brought on by the gymnastics community. Biles is redefining the meaning of gymnastics and the meaning of girl athletes.
"She has opened the eyes of so many kids that were told they could not do it, or they were not good enough, or they didn't have the body type," Biles' coach, Cecile Landi, said to the New York Times. "When I was an athlete, this wasn't the case. I was told I was not supposed to have a boyfriend. I was not supposed to go eat a cookie or something like that. And I think she's showing everybody you can have a margarita with your family and friends, and you can also still be the greatest gymnast of all time."
With millions of people focusing on Biles and awaiting her Tokyo 2020 debut, I think back to all of the athletes that came before her but didn't have the opportunity to stand up for themselves. Biles has created a legacy that people will forever look up to. She continues to teach the world that winning is about the hard work and dedication you put into your sport, not the amount of vigorous pain you mask away.