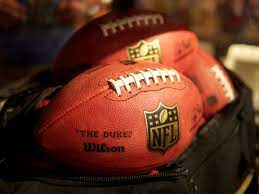 Last Week: 71.43% Accuracy
Denver Broncos vs. Cleveland Browns
Pick: Cleveland Browns
Even Case Keenum is more than good enough to beat this struggling Broncos team. This should be a Thursday Night disaster for Denver's slow offense, and a good break for Cleveland as they wait to get their starting quarterback.
Kansas City Chiefs vs. Tennessee Titans 
Pick: Kansas City Chiefs
The Titans may have beat the Bills on Monday Night Football, but the Chiefs are a team that will be doubly aggressive with the Chargers and Raiders threatening to ruin their season. The Titans will likely not have a bad game, but their chances of beating a feisty Chiefs offense are extremely low.
Washington Football Team vs. Green Bay Packers
Pick: Green Bay Packers
After starting the season on a good note, Washington has been on a steady decline with possibly the most underwhelming defense in the NFL. The Packers' high powered offense should be more than enough to beat Washington. 
Cincinnati Bengals vs. Baltimore Ravens
Pick: Baltimore Ravens
Even though I have faith in the Burrow-Mixon-Chase trio, the Ravens are simply a more well coached operation with a better quarterback and a more aggressive roster. This game will be close, but the Ravens have been excellent at closing out close games. This matchup should be no issue for Baltimore.
Carolina Panthers vs. New York Giants
Pick: Carolina Panthers
Sam Darnold will finally get a break against one of the weakest defenses in the NFL, and having no strong offense to play alongside it will be a big issue for the G-Men. In all likelihood, this will be a 43-12 beatdown of the Giants by Carolina, and this will be the win that Carolina has been looking for over the past three weeks.
Atlanta Falcons vs. Miami Dolphins
Pick: Atlanta Falcons
After three weeks of mediocrity, the Falcons have won two in a row and showcased a much stronger offense than people expected. They should move on to do the same thing against Miami who has been one of the worst teams in the NFL since week two and could not beat the Davis Mills' led Texans without a massive stroke of luck.
New York Jets vs. New England Patriots
Pick: New England Patriots 
I have all the faith in the world for Zach Wilson to pull himself together eventually, but for now the Patriots have a much stronger overall team and should be able to beat down on the weak New York team. I would look forward to an extremely strong game from running back Damien Harris in this matchup.
Philadelphia Eagles vs. Las Vegas Raiders
Pick: Las Vegas Raiders
Credit where credit's due, the Raiders have played pretty well throughout their coaching chaos. If they can manage to do the same against a bad Philly defense with a mediocre offense to match, then the Raiders will increase to 5-2 and be right back in the AFC West mix.
Detroit Lions vs. Los Angeles Rams
Pick: Los Angeles Rams
The Rams are possibly one of the best teams in football, and it's possible that the Lions are one of the worst. This should be a high scoring game for the Los Angeles offense, and don't be surprised if whispers of sitting Jared Goff emerge from this game following a matchup with his former team.
Chicago Bears vs. Tampa Bay Buccaneers
Pick: Tampa Bay Buccaneers
Had it not been for some of the worst officiating of the 2021 season, the Bears might have won last week's matchup and this could have been a matchup with high expectations. Now with Tampa holding all the leverage, this looks to be a much more decisive win for Tom Brady and the Bucs.
Houston Texans vs. Arizona Cardinals
Pick: Arizona Cardinals
In a similar vein to Lions vs. Rams, the 6-0 Cardinals will look to face the 1-5 Texans in what should be nothing less than a massacre of the Houston team. Multiple up and down weeks by quarterback Davis Mills are less than promising, and Kyler Murray is showing more than any Cardinals fan could have hoped for in their wildest dreams.
Indianapolis Colts vs. San Francisco 49ers
Pick: San Francisco 49ers
With how well the Colts have been playing lately, do not expect this to be a San Francisco blowout. That said, the Colts still have a weak offense and are not as well coached as the 49ers. In the end, the 49ers will pull through with the win and create further distance between them and the Seattle Seahawks in the NFC West.
New Orleans Saints vs. Seattle Seahawks
Pick: New Orleans Saints
A lack of any hint of consistent play by the New Orleans Saints makes it impossible to judge the outcome of any one of their games, but one consistent aspect of the NFL is that Geno Smith is a terrible starting quarterback. As long as Geno Smith is under center, I will not pick the Seahawks to win any matchup.