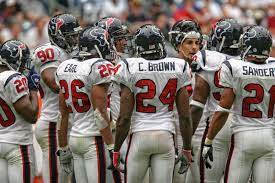 1. Los Angeles Rams (3-0) +4
After three weeks of very strong, consistent play that included knocking off the former Super Bowl Champions, the Rams are ready to roll and be the team to beat in the NFC come playing time. There is no glaring position of weakness for this Rams team.
2. Arizona Cardinals (3-0)
The Cardinals have just as strong of an offense as the Rams and just a little weaker of a defense. Kyler Murray's dominant play will make the fight for this NFC West a brutal contest between two worthy opponents.
3. Cleveland Browns (2-1) +1
After nearly blowing out the Chicago Bears last week, the Browns are proving that they are a team that is proficient and effective in knocking off good teams. Their strong defense is led by their stout secondary with Troy Hill, John Johnson, and Denzel Ward, while their offense is being carried by the duo of Nick Chubb and Kareem Hunt on the ground.
4. Buffalo Bills (2-1) +2
The Bills offense, especially Josh Allen, looks returned to form after a rough start against the Pittsburgh Steelers. The Bills have shut out the Dolphins and beat Washington by 20 points in back to back weeks. The Bills should have no problem beating a broken Texans team next week.
5. Las Vegas Raiders (3-0) +2
This project has taken a while, but it finally looks like Jon Gruden has pulled a team together that looks like it has some good form. Derek Carr is elevating everyone around him, Henry Ruggs is finally playing like the first round pick he was drafted as, and the defense is competent, if not stellar.
6. Tampa Bay Buccaneers (2-1)  -5
In all fairness, no team could have beat the Rams with how they were playing on Sunday. The Bucs are still an extremely strong team, and will be even stronger with the addition of All-Pro cornerback Richard Sherman who they recently signed.
7. Dallas Cowboys (2-1) +5
The Cowboys' offense found a happy medium between their week one and week two success on Monday, and this will help propel them to beat a lot more teams down the road. The defense also seems to be finding some young players to be proud of. Trevon Diggs and Micah Parsons are really shining in their first few games.
8. Los Angeles Chargers (2-1) +5
Justin Herbert came a long way in week three by leading a more than impressive offense to a win against the Kansas City Chiefs. As much as it was a loss for Kansas City, it was an absolute win for Los Angeles who can confidently consider themselves a contender in the AFC West even with two 3-0 teams remaining.
9. Green Bay Packers (2-1)
The Packers of old seem to be slowly but steadily returning. Aaron Rodgers pulled a classic come from behind win out of nowhere connecting with Davante Adams on multiple receptions to bring the Packers in the range they needed to get the game winning field goal.
10. Baltimore Ravens (2-1)
The Ravens have done a good job with the injured roster that they have been given, but let us not forget that if they did not have the best kicker in NFL history, it is extremely likely that a week after beating the Chiefs the Ravens would have fallen to the Detroit Lions.
11. Tennessee Titans (2-1)
The M.O. of this team is that when Derrick Henry plays well, the rest of the team also plays well. Ryan Tannehill needs to learn to be a more independent quarterback and build stronger connections with A.J. Brown and Julio Jones if he wants to succeed.
12. Denver Broncos (3-0) +6
This team may not be the 3-0 operation that their record suggests, but that does not mean that they should not be taken seriously. Teddy Bridgewater does not have a turnover in three games, and previously silent players like Tim Patrick and Courtland Sutton are returning to relevance in big ways.
13. Carolina Panthers (3-0) +3
Unlike the Broncos, the Panthers have not shown enough strength to back up their undefeated record. That being said, Sam Darnold is visibly making fewer mistakes compared to his New York years, and looks like a potential solution in Carolina.
14. Kansas City Chiefs (1-2) -11
If there ever was a time to be worried about the Chiefs, that time would be right now. The Chiefs are a good team but the fact remains that they are in an extremely top heavy AFC West featuring two undefeated teams and a Chargers team that just pulled off a win. The Chiefs can no longer afford to blow games.
15. San Francisco 49ers (2-1)
The 49ers success has been surprising, and frankly some of it has been lucky. The 49ers did not have a good second half against the Lions in week one, and week two was not nearly as decisive as it should have been. That said, the Niners still have plenty to be excited about and for now they are still alive in the NFC West.
16. Cincinnati Bengals (2-1) +7
Up to this point, the Bengals are a hot and cold team playing in a weak division. While Joe Burrow and Joe Mixon look like the real deal up to this point, I am not sure that this one two punch can outlast serious teams.
17. Minnesota Vikings (1-2) +2
The Vikings play extremely well when they are on afternoon football against a middling team but let's see how they do against a strong division rival, or any rival for that matter, on Prime Time. My expectation is that they will crumble like they always do.
18. Seattle Seahawks (1-2) -10
The Seahawks' weaknesses have been exposed on offense and defense both with the offense's lack of ability to keep up with Russell Wilson's high level play and the defense's inability to hold back superior offenses. 
19. Pittsburgh Steelers (1-2) -5
Ben Roethlisberger's age is showing in a big way, and this offense has not been moving down the field very well. I worry about the defense losing T.J. Watt and the fact that they lost to a hot and cold Bengals team.
20. New Orleans Saints (2-1) +2
The Saints are putting up a fight for the NFC South and Jameis Winston is playing far better than anyone expected. That said, the Saints still have offensive problems and Alvin Kamara is not giving New Orleans the boost they need. 
21. Philadelphia Eagles (1-2) +4
Jalen Hurts has shown some obvious passing talent in spots, but he needs to be more consistent when facing high level defenses; i.e. not the Atlanta Falcons defense. Meanwhile, this defense is not helping Hurts at all and keeps giving up massive yards to every offense that opposes it.
22. Washington Football Team (1-2) -5
Taylor Heinicke is a certified backup, the defense is disappointing in a major way, but Washington has an easier schedule facing them the next two weeks. If there ever was a time for Heinicke to get back on track and for the defense to start playing well, it should be against the Atlanta Falcons.
23. Miami Dolphins (1-2) +3
The Dolphins make no sense. One week they're dropping 28 points on the Raiders defense and on a totally different week they're not scoring any points and letting the Buffalo Bills walk all over them. At least the dropoff from Tua Tagovailoa to Jacoby Brissett is not that bad.
24. New England Patriots (1-2) -4
The Patriots are not a strong team when relying on Mac Jones rather than letting Damien Harris and James White carry the load. Now with James White injured, the Patriots will have a much tougher time moving the ball down the field. .
25. Chicago Bears (1-2) -4
The Bears are considering Andy Dalton, Nick Foles, and Justin Fields all as starting quarterbacks for Sunday's game. That's a rough place to be in for a franchise. Both the offense and the defense have been struggling throughout this entire season. I expect the Bears to be the big losers of the NFC North by the time the season ends.
26. Houston Texans (1-2) -2
Davis Mills was not ruinous, but he is not lifting the offense like Tyrod Taylor was in week one or the first half of week two. Without Taylor, the Texans do not have a good enough supporting cast to win meaningful games.
27. Atlanta Falcons (1-2) +2
The Falcons' struggling offense and miserable defense managed to pull out a win against the New York Giants on Sunday, but there is no reason to believe their offensive success will continue against greater opponents.
28. Detroit Lions (0-3)
The Lions may not have played well but they are managing to stay in games be it against the 49ers or the Ravens, but their inability to close out games and their awful defense are going to cause a very rough season for the Lions.
29. Indianapolis Colts (0-3) -2
While it should be admitted that the Colts are playing better than their record and their schedule is on the tougher side, the offense has still done a rough job of moving the ball down the field and the defense is nowhere near its 2020 form.
30. New York Giants (0-3)
You can tell a team is bad when it is not able to compete against the Falcons defense. Daniel Jones and Saquon Barkley are not moving the ball nearly well enough to deserve anything more than the last seed in a competitive NFC East.
31. Jacksonville Jaguars (0-3)
Trevor Lawrence needs to step it up if he wants to keep a starting job in Jacksonville because this offense is being killed by his interceptions and the entire offense's poor play. 
32. New York Jets (0-3)
Every single position is a need for the Jets. The wide receivers are bad, the offensive line is horrible, and the defense would struggle to stop a middle school offense. Hopefully the offensive core can improve enough to help rookie Zach Wilson develop before the whole operation dissolves around him and he is sent into mediocrity.