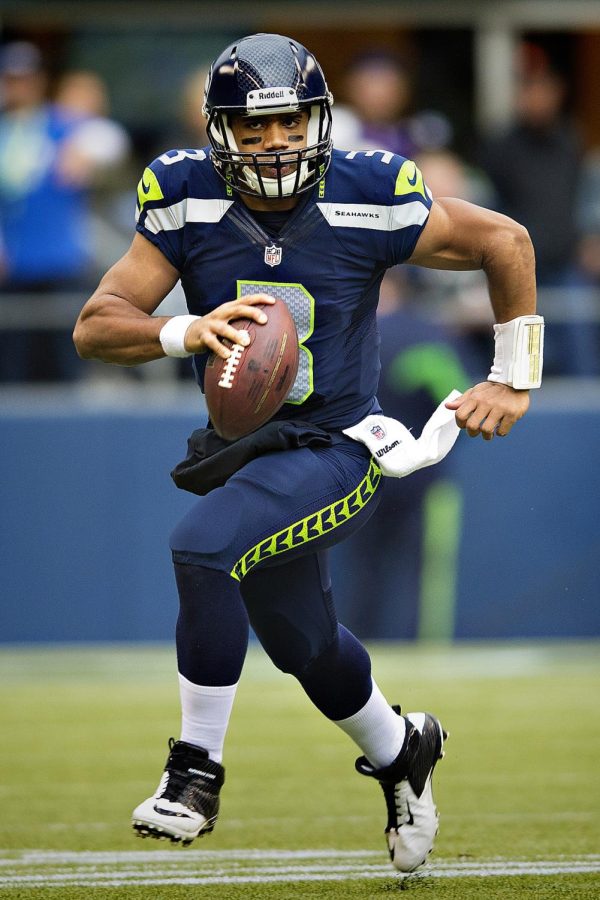 1. Kyler Murray
Kyler Murray looks like the far and away favorite for the MVP this season, and playing against either Jimmy Garoppolo or Trey Lance is going to make Murray look really excellent in comparison.
2. Patrick Mahomes
Five touchdowns is what Patrick Mahomes needed to throw to get the Chiefs back into legitimate contention in the AFC West super-division. People are not talking about this much, but there is a very real reality where in five years, Mahomes has surpassed Tom Brady as the best quarterback to ever play the sport.
3. Josh Allen +3
It is perfectly possible that Josh Allen's statistics are inflated by facing bad defenses, but two shutouts and a decisive win should be proof enough that last year's Allen was no fluke.
4. Justin Herbert +3
Does anybody remember when Justin Herbert's biggest red flag coming out of college was his decision making? Well look no further to criticize that trait. Herbert's increasingly prevalent ability to read the field is manifesting on tape, and it is giving Herbert the ability to face off with any good defense.
5. Dak Prescott
 A mix of Amari Cooper's return to form and CeeDee Lamb's obvious second year improvement is certainly more than Dak Prescott had last year, but even with last year's talent Prescott would be having a breakout season based on how he is playing.
6. Matthew Stafford -2
Matthew Stafford had a rough showing against the Cardinals last week, but rare is the occasion that the best team in football loses to any team, no matter how strong. Stafford's obvious physical gifts, good protection, and talented weapons are adding up to make a breakout season for the 33 year old quarterback.
7. Tom Brady -4
After two excellent weeks and a good week of play, Tom Brady came back down to Earth after facing his former team. Probably not a sign of things to come, but with the defense missing pieces there is something to be said for slip-ups being devastating for this team.
8. Aaron Rodgers
Aaron Rodgers is keeping these games way too close. Near misses against the 49ers and Lions do not bode well for the Packers, and a dreadful loss to the Saints is still looming over their heads.
9. Russell Wilson +1
Russell Wilson single handedly won on Sunday for the Seattle Seahawks like he does almost every week. Just think how incredible this team would be with the defense of old, a couple more weapons, and a great offensive line; Wilson could be unstoppable.
10. Joe Burrow +1
Joe Burrow is leading a surprisingly strong Bengals team into contention, and it should be noted that the Bengals are tied with both the Cleveland Browns and the Baltimore Ravens in leading the AFC North at 3-1. Burrow is proving that he was not overdrafted.
11. Derek Carr -2
Derek Carr took a big step back against the Chargers on Monday Night Football. After starting the season strong, Carr had one of the worst first halves of the season and could not pull his team together in the second half. Carr has to be a more consistent quarterback to keep the Raiders in contention, especially in the AFC West.
12. Ryan Tannehill
Nobody should be shaming Ryan Tannehill for "blowing" the game against the New York Jets. Remember that Tannehill was without both A.J. Brown and Julio Jones, and had to spread carries amongst Nick Westbrook-Ikhine and Jeremy McNichols. Of course the offense was due to struggle.
13. Lamar Jackson
Lamar Jackson is keeping the Ravens in games, but he is struggling as a passer more than he has for the last two seasons. This might prove fatal for the Ravens, especially after their injuries have dragged them down so much.
14. Matt Ryan +5
Matt Ryan is looking more like the quarterback we are used to seeing. Mistake prone in dangerous situations, but overall an above average quarterback when it comes to playing the average football game. Ryan will likely struggle without Calvin Ridley in the Falcons' Sunday matchup with the Jets in London.
15. Baker Mayfield
Baker Mayfield is looking less like a playmaker and more like a game manager every game he plays. Sunday's matchup against Minnesota was about as bad as it gets, and even without Pro Bowl receiver Jarvis Landry on the field, Mayfield should be able to make something happen without having to lean on Nick Chubb and Kareem Hunt.
16. Sam Darnold
Even though Sam Darnold has had some bad throws, there is no doubt that a change of scenery was extremely beneficial. Darnold has done a good job of leading the Panthers to wins over bad teams, and he kept them in decent contention against the Dallas Cowboys.
17. Kirk Cousins +1
Kirk Cousins is playing safe, boring football, and it killed the Vikings on Sunday. Ever wondered why Cousins puts up great numbers but never wins a playoff game? Cousins is an absolute checkdown robot who fails to make big plays or lead his team on meaningful game winning drives. Until Cousins starts winning those types of games, he will never be a franchise quarterback.
18. Jalen Hurts +2
Have the Eagles solved their quarterback problem? I believe the answer is yes. Jalen Hurts has by no means been perfect, but his deep throw ability has visibly improved as the season has progressed and he has been able to put up solid numbers against most defenses. Let's not forget that every time Hurts scores a touchdown, the Eagles give up two touchdowns to the opponent.
19. Jimmy Garoppolo -2
The limited action we saw from Trey Lance was not enough to convince the 49ers that Jimmy Garoppolo was going to take a backseat to the third overall pick of the draft. Garoppolo will be able to continue his serviceable play until the 49ers get desperate for late season wins.
20. Carson Wentz +4
Carson Wentz was finally able to lead the Colts to a win against a weak team in the Miami Dolphins, but if all Wentz can do is bring the Colts wins against weak teams then perhaps it is time to reevaluate the starting quarterback position next year.
21. Mac Jones +1
Mac Jones kept a stale New England Patriots team in contention against the reigning Super Bowl champions on Sunday Night. Even with the Bucs showcasing a damaged secondary it is a good sign that Jones looks like the best of a mediocre crop of rookies.
22. Taylor Heinicke +4
The legend of Taylor Heinicke continues. For weeks I have been attempting and failing to predict the demise of Heinicke's career and to his credit he keeps proving me wrong. Chances are Heinicke will have a good day against an up and down Saints team.
23. Jameis Winston -2
Jameis Winston is by far the most up and down quarterback of 2021. Multiple touchdown weeks often are immediately followed by multiple interceptions and Winston's inconsistent weapons often have up and down games against varying teams.
24. Daniel Jones +4
Daniel Jones played much better than he has in the past three weeks, and what's more it was against a defense that is not an absolute disaster. The real test will be if Jones can hold his team together against a powerful Cowboys team. 
25. Jared Goff -2
In the early moments of the season it looked like the Lions could be competitive. Jared Goff nearly led his team to a comeback win over the 49ers, the Lions offense kept up with the Packers defense for two quarters, and it took the longest field goal in NFL history for the Lions to lose week three. By now, the Lions look like a purely bad team with no excuses for losing games.
26. Ben Roethlisberger -1
There are subtle rumors floating around that Aaron Rodgers could be a Pittsburgh Steelers, and that should come as a relief to fans because Ben Roethlisberger looks awful at 40 years old.
27. Zach Wilson +4
Zach Wilson's performance on Sunday goes to show that with good protection and receivers that can actually catch a football, Wilson can do great things. Less mistakes were made, and Wilson's deep ball looked very improved compared to the last three weeks of play.
28. Trevor Lawrence +1 
Trevor Lawrence had his first interception free game against the Bengals defense, and looks one step closer to proving that he was not a bust as the first pick of the draft.
29. Jacoby Brissett -2
Few backups do as much for their team as Jacoby Brissett does, but nothing will change that Brissett is nothing more than a high-level backup. That said, the Dolphins are not missing much by starting Brissett over the injured Tua Tagovailoa at this stage of their respective careers.
30. Drew Lock 
I've just about had enough of Drew Lock and he doesn't even have a regular season start in 2021. After a promising finish to the 2019 season, Lock dropped an absolute stink bomb of mediocrity on the Broncos and necessitated a trade for Teddy Bridgewater. If Teddy has to miss significant time, the Broncos can kiss the top spot in the AFC West goodbye.
31. Justin Fields +1
Justin Fields' ceiling is plenty high, but for now he will have to improve fast if the Bears want to keep pace with the Packers in the NFC North.
32. Davis Mills -2
Davis Mills' performance against the Buffalo Bills brought back dark memories of Nathan Peterman's infamous six pick game with the Bills. The Texans owe it to fans, and to their own team to sign a quarterback off the streets. Cam Newton could thoroughly outplay Mills.