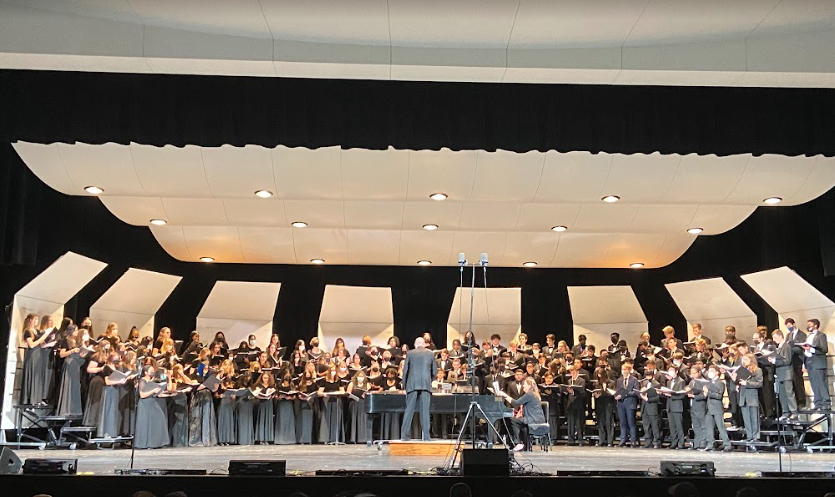 Eshaan Chopra
High school choir is an intense environment that makes the Region 26 Choir Concert such a fantastic experience for students, as instead of being against each other, the best perform together. On Saturday, Nov. 13, the Texas Music Educators Association (TMEA) hosted the Region 26 Choir Concert. The Klett Performing Arts Center was full of student singers from schools such as McNeil, Round Rock, Rouse, and of course, Westwood. Both qualifiers for the next round of the TMEA competition and those who did not make it through received the opportunity to perform at this concert, offering ample preparation for their next steps in the choir world. 
The Region Treble Choir was a collection of students who, though they did not qualify for the next round of the TMEA All-State competition, provided one more performance for their loved ones. They sang a compilation of four songs, each light-hearted and encouraging to wrap up their competition season. Each of the four parts had a special quality in the performance, including the multitude of high notes sung by Soprano I.
"Especially for TMEA, [Soprano I] is a lot higher than usual," Aubrianna Carter '23 said. I prefer having the high part because it is really fun. Also, [for TMEA], [singing] Soprano I [tends] to be a little more competitive so I think we really enjoy it."
With a subtle shift on stage, the Region Mixed Choir immediately began their performance. The Region Mixed Choir consists of those who did qualify for the next round of the TMEA competition, with each of the eight vocal sections containing around 18 individuals. Each of the four parts, Soprano, Alto, Tenor, and Bass, shined in this performance with a dynamic opener, The Proclamation: Gloria in Excelsis. 
"It was really fun, [as] a lot of people were singing [loudly]," Lasya Adivi '23 said. "It was a huge difference from our own Chamber choir. We sing pretty loud but when we got there, I was like, 'Oh my god!.' I remember we were at a forte [and] our director was like, 'Guys, it says piano!'"
Directors are a major part of the production of such an important preparation concert. Ms. Brenda Justice, a recently retired Rouse High School Choir Director, directed the Treble Choir with the piano accompaniment of Paula Knight. While Ms. Justice does not teach at Westwood,  choir students still enjoyed her instruction techniques.
"[Ms. Justice] was great,"Apoorva Gaburu '22 said. "She had a lot of energy and talked about [how] she was a nanny and the relationship[s] she had with the kids she nannied. She taught the music really well. One song we learned on the day of [the concert], and I think it was our best song."
For the Region Mixed Choir, Head Choir Director of Cy-Fair High School Mr. Nicholas Likos was invited to direct the students for their Pre-Area auditions. With a Bachelor's Degree in music studies, Likos impressed the Region Mixed Choir participants with his unique perspective and techniques. Gabriel Paredes '23 is a two-time TMEA All-State qualifier and recently received the first chair position in his last competition.
"Mr. Likos is amazing," Paredes said. "He inspires me to want to continue doing music because everything he said was so precise and accurate and really, really helpful for me as a singer. I think as a group, we all learned how to collaborate better together, considering we had such a short amount of time to put this concert together."
A testament to the students' hard work, a standing ovation from the audience celebrated the choir's rich and powerful sound. Especially in such a large group, the harmonies were plentiful and vibrant. For many, it was a new experience to work with similar-level peers from a variety of schools. More than a concert, this clinic turned into a learning experience.
"TMEA is everyone in the region," Annika Iyer '24 said. "For example, you get to hear people from different schools and get to sing different songs that aren't specifically made for your choir.  The choir I'm in at Westwood is an all-girls choir but I was singing with a mixed choir, so it was nice to be like 'Hey there's guys this time.'"
With this concert experience, the students felt more prepared to take on the Region 26 Pre-Area auditions on Tuesday, Nov. 16, anticipating good results.