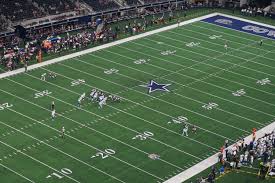 1. Dallas Cowboys (6-1) +1
Per PFF's rankings, the Dallas Cowboys are the best offense in the NFL, dominating every offensive category and that certainly manifests on the field. Cooper Rush was still able to get the win against the Vikings in PrimeTime on Sunday night, and Tony Pollard and Ezekiel Elliott are consistently combining for one of the best running back tandems in the NFL.
2. Green Bay Packers (7-1) +2
Whatever injuries might plague the Packers, they always seem to figure things out when Aaron Rodgers is in the starting lineup. Now with Rodgers out with COVID, the Packers will be forced to throw first time starter Jordan Love into the fire and see what upside they have in their former first round pick.
3. Arizona Cardinals (7-1) -2
The Cardinals would still be undefeated had it not been for A.J. Green's decision to retire mid-play in the final seconds of regulation. That said, the Cardinals cannot afford to make these mistakes if they want to stay in division contention. Hopefully with a matchup against the struggling 49ers, the Cardinals can get back on their feet and get another win, although the possibility of starting Colt McCoy over Kyler Murray is daunting.
4. Los Angeles Rams (7-1) -1
The Cooper Kupp – Matthew Stafford connection is at full strength and is the most unstoppable QB-WR duo in the NFL, and it should easily prevail against the exceedingly weak defense of the Tennessee Titans. Los Angeles has beaten good teams, and I am confident they will be a force to reckon with deep into the playoffs.
5. Baltimore Ravens (5-2) +2
A week eight bye was exactly what Baltimore needed to set things straight after suffering a horrible loss to the Cincinnati Bengals in the previous week. A matchup against the Vikings will be just the thing to set the Ravens back on track to win the AFC North.
6. Cincinnati Bengals (5-3) -1
The Bengals' defense fell apart against Mike White and the Jets offense, and that should not be something that ever happens again. The Bengals are a well built team with a great quarterback, running back, and wide receiver trio with an improving offensive line and defense, but they are not consistent enough to make a convincing run in the playoffs.
7. Las Vegas Raiders (5-2) +4
Every time the Raiders find success, something seems to completely collapse. After wide receiver Henry Ruggs III's release following an arrest stemming from a DUI, the Raiders will look to continue the season without one of their ascending offensive weapons in Ruggs who was starting to pick up steam after a mildly disappointing first NFL season.
8. Tampa Bay Buccaneers (6-2)
The arc of Tom Brady being bad against the New Orleans Saints is a curious one, but ultimately nothing to be concerned about. The Buccaneers should only concern themselves with demolishing the Washington Football Team and taking a solid hold over the NFC South at last.
9. Tennessee Titans (6-2) -3
Tennessee has lost the most important player on their roster, and substituting him with longtime veteran Adrian Peterson and third down running back Jeremy McNichols is not a viable solution. A running back might seem like an inconsequential loss, but losing Derrick Henry is a colossal blow for the Titans.
10. Buffalo Bills (5-2) -1
For reasons beyond understanding, the Bills are having praise heaped on them in inordinate amounts even after beating four extremely weak teams while losing to the Pittsburgh Steelers and Tennessee Titans. Out of all teams with two losses or less, the Bills seem like the most likely to fall.
11. New England Patriots (4-4) +4
The Patriots look extremely strong following their win against the seemingly high powered Los Angeles Chargers' offense. To this point, the Patriots once again look like they could sweep their division and claim an AFC East title once again. 
12. Los Angeles Chargers (4-3) -2
The Chargers seem to be falling off after a strong first five weeks. The issue has been on both sides of the ball, Justin Herbert has done a far worse job of distributing the ball to Mike Williams and Keenan Allen, his protection has been worse, and the defense has given up massive amounts of points to the Ravens and Patriots offenses.
13. Pittsburgh Steelers (4-3) +4
The Steelers' offense certainly looks better than it did at the beginning of the season. Even if rookie running back Najee Harris still looks like a project ,the Steelers certainly have something special in tight end Pat Freiermuth who had the game winning touchdown reception.
14. New Orleans Saints (5-2) +2
New Orleans has officially ascended from mediocrity, and ironically the week that they do so is the week that Jameis Winston falls to an ACL tear. There are far worse situations to be at than Trevor Siemian and Taysom Hill as backups, with rookie Ian Book on the bench.
15. Cleveland Browns (4-4) -3
Cleveland is either losing talent or having players consistently underperforming, and in a division as tight as the AFC North that simply is not an option. Cleveland needs to be better at utilizing their offensive talent and getting more defensive stops to be a legitimate contender.
16. Indianapolis Colts (3-5) -3
A high scoring offense is irrelevant if there is an inability to close out games, and that is exactly what the Colts suffer from. Veteran quarterback Carson Wentz has been extremely lucky to not throw more game shattering interceptions, and the defense should be upset at how poorly Wentz handles the opportunities that they give him.
17. Minnesota Vikings (3-4) +3
Even with the trope of the Vikings losing in PrimeTime, a loss to the Cooper Rush-led Dallas Cowboys is completely unacceptable for this quarterback and this coaching staff. Minnesota should be in the market for a quarterback next season.
18. Kansas City Chiefs (4-4) 
After Monday Night Football Patrick Mahomes made some comments regarding the Chiefs' "improving" offense in a post game interview. That is utter nonsense. Patrick Mahomes has had abysmal decision making in some spots, his throws are off target, and the defense is completely lost in space. Nothing is more disappointing than the 2021 Chiefs' season.
19. Denver Broncos (4-4) +4
The Broncos finally acquired a win following a four game skid that came off of an undefeated start, but they did not look good doing it. Injuries on defense and trading away the face of the franchise are going to hurt this team.
20. Carolina Panthers (4-4) -4
The Panthers have all but fallen on their faces after their 3-0 start saw horrible play from San Darnold, a receding defense, and P.J. Walker in the starting role. Neither side of the ball features any level of excitement, and the Panthers are poised to be the worst team in an already weak NFC South
21. Philadelphia Eagles (3-5)
The Eagles have certainly found their M.O., and it is not a good one. Jalen Hurts has a myriad of problems to solve with his game, the defense is as bad as ever, and following injuries to Miles Sanders, Boston Scott and Kenneth Gainwell have entered the fray as the starting running back.
22. Atlanta Falcons (3-4) -8
After a few weeks of superb play from Matt Ryan and the Falcons' offense, they fell to the Carolina Panthers on Sunday to fall back under .500. Couple their recent failure with star wide receiver Calvin Ridley announcing that he would be taking a break from football and you have a broken operation.
23. San Francisco 49ers (3-4) -4
The 49ers having one of the best coaches in the NFL is the only thing keeping them from being one of the worst teams in the NFL. For the second year in a row injuries are decimating their roster and causing gaping holes that Shanahan is trying to fill with low draft picks and free agents.
24. Miami Dolphins (1-7) +5
The Miami Dolphins have the requisite talent on their roster to have about four wins by now, but the early injury to quarterback Tua Tagovailoa rendered that as an impossible future. That said, the Dolphins could be successful in rejuvenating their season with Tagovailoa and help build faith for their organization.
25. New York Giants (2-6) +1
As expectations continue to fall for the Giants, Daniel Jones continues to struggle and the defense continues to let opposing offenses cruise into wins. Hopefully the Giants will be able to improve with the draft, but for now they will have to be content with a six win ceiling in this NFC East.
26. Chicago Bears (3-5) -1
Chicago has been completely incapable of keeping high expectations for a multiple game stretch, and it is glaringly apparent as they suffer horrible losses against the San Francisco 49ers and Tampa Bay Buccaneers in back to back weeks.
27. New York Jets (2-5) +5
As it turns out, it is possible for a quarterback to succeed in the Jets offense. It's more than likely that surprise backup quarterback Mike White will fizzle out and be an absolute train wreck in future weeks, but if the success continues then the Jets need to evaluate their roster building.
28. Seattle Seahawks (3-5) -1
Even with a win against the Jaguars, the poorly built Seattle Seahawks are set up for a disaster season with backup quarterback Geno Smith coupled with a weak running game led by Alex Collins and backup running back Travis Homer. The Seahawks are far removed from being a factor in the NFC West.
29. Washington Football Team (2-6) -7
Taylor Heinicke has finally taken his fall from being a solid starter to a high level backup. Heinicke and the Washington offense are no longer showing the ability to keep pace with high performing offenses, and the running game with Antonio Gibson has been extremely disappointing. 
30. Jacksonville Jaguars (1-6) -2
Expectations were high coming into a game against Geno Smith and the broken Seattle Seahawks, but Trevor Lawrence and the Jacksonville Jaguars once again imploded against a stronger opponent, and once again looked like one of the worst teams in the NFL.
31. Houston Texans (1-7) -1
There have been whispers of the Texans deciding to stick with Davis Mills as the starter down the stretch, and there is nothing that excited me less. Mills has been aggressively boring and has not moved the offense, and Tyrod Taylor looked like he was at peak efficiency to start the season. There is no question that if Taylor is available, he should absolutely be their starter.
32. Detroit Lions (0-8) -1
It's unreasonable to assume that the Lions will have a winless season because of how hard it is to lose every game, but the Lions sure are stinking up the block with how horribly they're playing. The only exciting thing about the Lions are young offensive players T.J. Hockenson, D'Andre Swift, and Penei Sewell, all of which have been hard pressed to find success in this dreadful system.