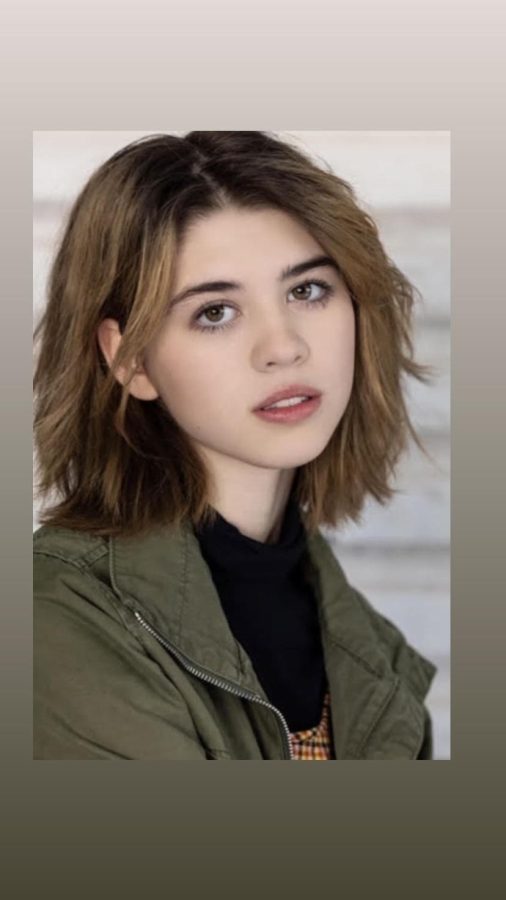 Kristine Canterbury
When That '90s Show was announced by Netflix in 2021, fans were excited to see the old cast from That '70s Show return as well as a new cast of young actors portraying the new generation of teens during the summer of 1995. Among the new cast is Callie Haverda '25, playing lead character Leia Forman in the highly anticipated spinoff of That '70s Show. 
Watching her siblings act before her, Haverda got into acting at a young age. She has now played in notable films including Hulu's Shut Eye and Netflix's The Lost Husband, and will now be adding That '90s Show to her repertoire. 
"I've been acting since I was six," Haverda said. "My older siblings were actors before me, though they don't do it anymore. My parents actually wouldn't let me start acting until I was old enough to decide I wanted to do it for myself. I practically begged them to let me do a commercial my sibling's agent submitted me for, they let me and I just fell in love with it from there." 
Being a fan of That '70s Show, Haverda was quickly intrigued with the audition for That '90s Show. After learning more about the role, she immediately connected with the show and the character of Leia Forman. 
"I never really knew what direction I wanted to take my career but as soon as I read the description of the show and I met the character of Leia, I fell in love with it and truly connected with the work as a whole. My friend actually got the audition before me and she said, 'Oh my god, have you gotten this? This is literally you.' And it's true when I read the character description I thought I was reading about myself."
Haverda is currently filming for That '90s Show in California. Moving around for her career has come with learning how to balance different aspects of her life such as her friends, education, and acting. Haverda is participating in online school to keep up with her studies, and she has friends around the country that she can connect with. 
"It's hard, it really is. The thing about acting is that you really can't plan ahead. You have to be flexible and willing to put your career first. I have set teachers that help with school, and friends in many states that I can connect with. I've gotten fairly good at [balance] but leaving friends in different states and having to cancel plans constantly is very hard."
Out of all of the different aspects of acting, Haverda finds becoming different characters the most special part of her career. Despite being given a script and character to play, Haverda is able to bring her own personality to each of her characters. 
"Playing such different characters and having to take on these personalities is enlightening. Every audition I get to pretend to be a brand new person and figure out her story. I love reading scripts and uncovering more about my character, then of course when I bring her in front of the camera I get to put my own spin on things and make her my own. It's like I get to put on someone else's shoes and walk in their lives for a few months."
But despite loving acting, it does come with its share of difficulties. Haverda reflects on the fear that can come with being a part of a large production and how she moves past that to dig deeper into her characters. 
"I'm always worrying that 'I'm doing it wrong' whether it's the way I'm playing a character or saying my lines, but I always have to remember that there is no 'right' way to do it. There are techniques, but as for the character you play, it is yours so you can do whatever you want. Nine times out of ten the writers want you to do your own thing and make the character your own." 
Because That '90s Show is a spinoff of That '70s Show, some of the actors from the original show will be appearing in the spinoff, including Kurtwood Smith and Debra Jo Rupp, who play Red and Kitty Forman in both That '70s Show and the upcoming That '90s Show. Haverda gets to work with actors young and old, new and experienced. 
"On That 90s Show, I am so lucky to have a whole cast of wonderful humans my age that are the kindest people in the world and a crew of adults making us feel at home. I am very grateful for the number of true talents I've been able to work with. Kurtwood Smith and Debra Jo Rupp have to be the sweetest people alive. They're constantly helping me on set and I learn something new from them every day. At first, it was intimidating working with and meeting absolute legends but everyone I've worked with has been extremely kind."
Haverda plans to stick with her role on That '90s Show for a while, but what comes next is still up in the air. 
"It's difficult to play out your future when you're an actor. One thing I've learned is to always go with the flow. The right job will come again and if I connect with it maybe I'll get it. But maybe not! Most of the time actors are met with rejection. What I can plan is to continue my career in acting for as long as I hope to get jobs."
With a career like acting comes a lot of rejection. Haverda "can do six auditions in one month and not hear anything back," but instead of being discouraged, she pushes herself forward. Haverda offers advice to any young actors feeling disheartened about the difficulty of acting. 
"A lot of young actors get discouraged because they don't book a role. If you're truly passionate about it don't give up! I used to look at kids younger than me whose careers were already taking off and felt like I was behind, but there will always be a role for you no matter what age you are. If you really want to be an actor, you'll have to put in a ton of work and get used to rejection. It will not be easy at all but when the day comes [when] you finally book that role, all your work will have paid off and it truly will be the greatest experience of your life."