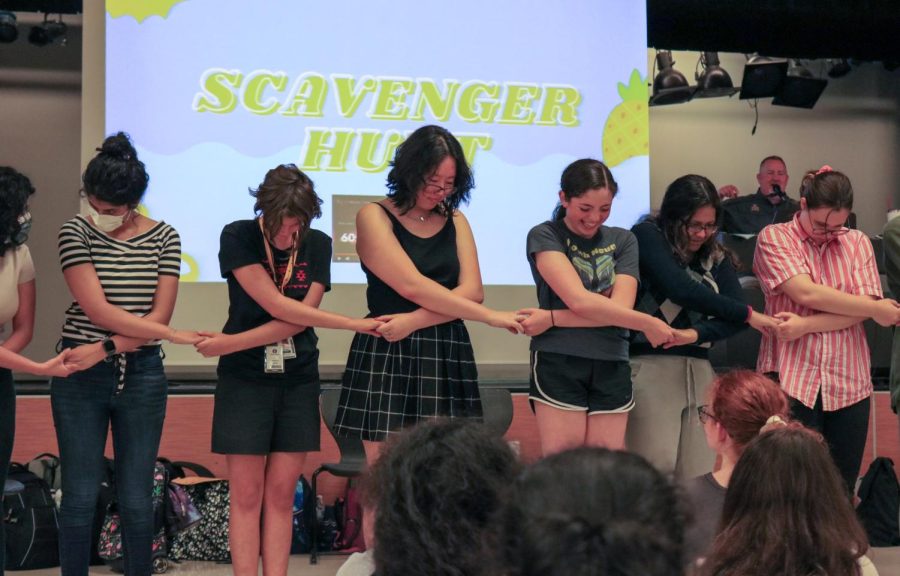 On Tuesday, Sept. 6, five choirs joined together in the cafeteria to bond as one during the annual choir camp. With get-to-know-you games, a scavenger hunt, and a senior pageant, new and old students had fun while strengthening the bond between and within choirs. 
"It was really nice to see everybody and meet new people," Elise Trenk '24 said. "You know, just starting the year off with a nice bonding experience and having fun." 
The camp started by having the students divided into different color groups. This made sure that people from different choirs could interact and get to know each other. Each color group had a few team leaders that could lead conversations and ice breakers. They played different types of name games that allowed the groups to learn everyone's names. 
"We did the grouping last year too, and we really liked the way people were able to get to know each other better and meet some people not only in their choir, but meet some people from other choirs too," Trenk said. "The purpose of the groups was just to kind of make sure everyone actually met each other."
Next students revealed who their big and littles were. Bigs and Littles is a way for new choir students (littles) to have an experienced choir member (bigs) to guide them and help them feel part of the choir family. 
"My favorite part of choir camp was being able to meet our choir bigs and littles in person," Harshini Srinivasan '24 said. "My little was absent, but I got to meet my co-big for the first time and I felt really welcomed."
After all the choir officers introduced themselves, students broke off into their color groups again. The next activity was a scavenger hunt around the school. Each group was given a clue to a spot in the school. They were then instructed to go there, find their next clue, and take a picture with their group to prove they had gone to every spot. 
"The purpose of the scavenger hunt was mainly team bonding," Trenk said. "We really wanted people to get to know each other more and, you know, have a little bit of competition as well." 
Once everyone was back from the scavenger hunt, students separated into their voice groups to learn the song The Lord Bless You and Keep You. Each year at choir camp, old and new students learn The Lord Bless You and Keep You which is sung at the end of every choir concert by every choir.
"The Lord Bless You and Keep You is a piece that has been sung by Westwood Choirs long before I started teaching at Westwood," choir director, Robin King, said. "It encapsulates what it means to love others and want to share beautiful moments with one another." 
At the end of the camp, a 'senior pageant' took place. Seniors were introduced while walking down the middle of the cafeteria. They submitted facts about themselves so that students could get to know them and know who they wanted to vote for in order to decide on homecoming nobility. 
"It was mainly just for homecoming voting so we would get to know our seniors a little bit more and we can actually recognize them and know a little bit more about them," Trenk said. 
Choir camp is a way for students to get to know each other better, and bond between choirs. 
"The best part of being part of a community like choir is being able to connect with people who have the same interests as me," Srinivasan said. "The community has helped me make friends who enjoy music as much as I do."