'Call Me By Your Name' Dazzles On Screen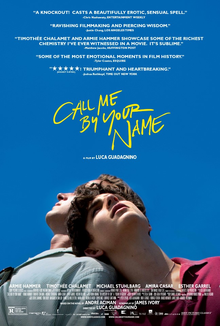 Hang on for a minute...we're trying to find some more stories you might like.
How often is it that a film is stunningly filmed, masterfully acted, increasingly relevant, and still pleases both the critics and the public?
Not often enough, but Call Me by Your Name, directed by Luca Guadagnino, is one of those rare gems. Featuring the familiar star Armie Hammer and the new "it boy" of 2018, Timothee Chalamet, the independent film has four Oscar nominations, including the ones for Best Picture and Best Actor (Chalamet).
Based on the book of the same title by Andre Aciman, Call Me by Your Name is, in its simplest form, a story of love. In it, an American graduate student named Oliver (Hammer) comes to stay with Elio's (Chalamet) family for a summer to study archaeology with Elio's father. As Elio and Oliver spend more time together, they begin to fall for each other, but have difficulty voicing their feelings. As their shared time passes, they slowly unearth the complexities and beauties of love, delving completely into the intensity of emotion.
Although most of the love in this film develops between Elio and Oliver, the feeling emanates from every scene and every line. The family bonds in Elio's household are exceptionally close and profound. The love of the country, Italy, which is neither Elio nor Oliver's permanent home, spills from the bright, luscious camera shots. All the characters share an adoration of knowledge, art, and beauty. Each angle is directly intimate with the characters, bringing the audience into affectionate perspectives. I felt myself falling in love with every aspect of the movie, enhancing the romance between Elio and Oliver.
What's so striking about this film is its simultaneous realistic and dreamy qualities. Everything feels so stunning, both outside and inside, that it almost seems the whole experience was too good to be true — how love can often feel. Yet the characters' reactions to each other, the struggle to approach real emotions, is so real.
Lastly, Call Me by Your Name is brave. It is a love story between two men that is as heart-wrenching and gorgeous as any other. The two men acting as Elio and Oliver are both straight men who believed in the universality of this story — Chalamet in particular is impeccable as Elio, capturing all the sorrows and joys of the film perfectly. The candidness with which the film approaches desire and love is refreshing. So many aspects of this film break boundaries, not necessarily because the movie intends to, but because it is touching, masterful, and real: a rarity in modern cinema.
About the Writer
Kate Lee, Voices Editor
I'm a fierce believer in the written word -- my dream is to live as a writer and a creator. Some other...