Arts Students Launch MUSE Club
Hang on for a minute...we're trying to find some more stories you might like.
The MUSE club, sponsored by Mr. Thomas Turpin, is a charity organization in which young high school musicians can volunteer and perform in local community homes, was recently founded by Elaine Chen '21. Chen plays the flute in the Westwood Band and is involved in several other school organizations including Student Council.
"I chose to [reactivate] MUSE because of several important reasons," Chen said. "First, MUSE is a great club that provides everyone a public platform and opportunities to spread happiness through music in our community. Secondly, MUSE would be an organization that connects Westwood students from band, orchestra, choir, and other fine art programs. Together, MUSE members can show our appreciation to our community. Lastly, through the performances, rehearsals, and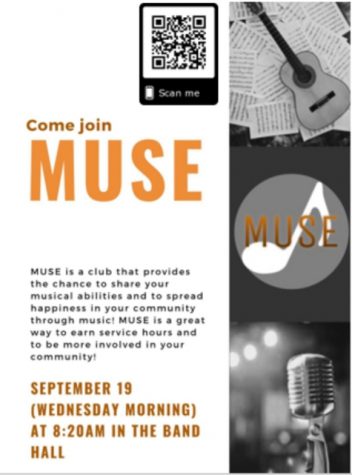 other event plannings, MUSE members will benefit by having a chance to gain leadership, organizational, executive, coordinate and connection experiences."
Chen chose a well-rounded officer team, with representatives from each of the art classes, including orchestra, band, choir, and art. These officers met for the first time at the end of the last school year to plan on how they were going to launch the club. They will continue to have meetings every week in order to find new events to participate in. Students must attend the monthly meetings and stay updated on all news in the club.
"I felt pretty good about setting up to be a club since we have a large fine arts population here," Pranavi Kolli '21, the choir secretary, said. "Also, many of us had a common interest of sharing music throughout our community, so it was easy to form a group and work towards our goal. I think the idea of MUSE can appeal to many students and grow to be a large club. During club meetings, we are planning to discuss upcoming events with our members and also just notifying them of the progress we are making. It is also a great way to receive feedback and ideas from MUSE members as to what they hope to see in the club."
Through MUSE, not only can students share their musical abilities, but they can also earn service hours and be more involved in the community. Students can join MUSE as long as they bring $20 of club dues for a t-shirt and the music to the first official club meeting on Wednesday, Sept. 19 at 8:20 a.m. in the band hall. Prior to attending the meeting, students must sign up here.
"I'm excited for MUSE because it's opening up an opportunity for a lot of people to use their passion for music to make others happy," Sanjana Kumar '21 said. "Music is a raw and beautiful form of communication and the MUSE club is giving students the ability to connect with people from all ages and races. MUSE will help me become a better performer, more comfortable with ensembles and coordinating them, and allow me to meet new people and share my love for music with them."
About the Writer
Srilekha Cherukuvada, Heritage Copy Editor, Horizon Weekly Editor
This is my first year on student press and my third year of taking journalism. I love to write, read, eat, sleep, and procrastinate. I'm in DECA, FBLA, and I play the flute in band. I am also a part of Outreach, Days For Girls, French Club, NFHS, and a writer and editor for Lune Magazine. In my spare time, I like to listen to music, watch youtube, and spend time with my family.