New Sergeant Joins AFJROTC Faculty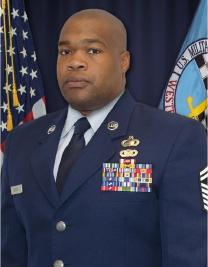 Hang on for a minute...we're trying to find some more stories you might like.
Senior Master Sergeant Walter Hodges began his first year teaching AFJROTC this August after retiring from being a drill sergeant in the US Air Force.
"I wanted to impact the lives of young people and help them," Sergeant Hodges said.
In AFJROTC, Sergeant Hodges teaches leadership education and physical training and also inspects his student's uniforms every week.
"I taught air force curriculum basic training for five years," Sergeant Hodges said. "In addition to that, I have a master's degree in education."
Switching from active Air Force duty to teaching high school students was a big change for Sergeant Hodges.
"On active duty there's a lot more accountability. I can hold them to a standard, and if they don't do what I say, there are consequences," Sergeant Hodges said. "With cadets, there is a standard that we have to uphold, but it's more academically driven and about building the students as citizens."
This is Sergeant Hodge's first teaching job after getting his master's degree in education, so he is forming his personal style of teaching as he goes.
"I would say my teaching style is more student-driven. I like to have students involved and excited about the curriculum they're learning," Sergeant Hodges said.
Sergeant Hodges enjoys getting to know his students and fellow faculty, as well as learning about the corps.
"I'm very excited to be teaching here, and I hope this career I have chosen will last me for another 20 years," Sergeant Hodges said.
About the Writer
Ian Drerup, Reporter
Hey, I'm not sure what I do in Student Press yet, but hopefully I'll do it well. I play guitar and drums, as well as Dungeons and Dragons, which is why my stupid band is called Drummers and Dragons. My best friends are my cat and my dog. I look forward to writing articles and taking pictures. I don't know how to talk to people.