Choir Performs Annual Cabaret Show
Hang on for a minute...we're trying to find some more stories you might like.
On Feb. 4 and 5 at the PAC, the choir performed pop songs from the 70's, 80's, and 90's for Cabaret. Though the students only had one month to learn the songs and dances, they did an outstanding job.
"Being onstage almost felt like an out-of-body thing, or like I wasn't even up on the stage," Sriharini Vedula '17 said. "It felt great to be up there performing and I felt like a Hollywood star on Broadway."
In between many solos, duets, and small groups, all the choirs combined to perform three songs, "YMCA", "Bohemian Rhapsody", and "We Are Family". The treble women's choir performed the song, "Build Me Up Buttercup" individually, while all the men's choirs sang "Brown Eyed Girl" and concert women's and varsity women's choirs combined to sing "You Can't Hurry Love."
The Chamber Choir performed "Don't Stop Believing", which many of the Chamber Choir members called their favorite song to perform.
"That was something our personal Chamber Choir got to sing," Luke Victor '16 said.  "And I loved the choreography for it."
Others liked the song because of the memories associated with it.
"I grew up listening to that song so being able to perform it on stage was such a blessing," Vedula said.
Though the choirs looked calm, cool, and collected onstage, backstage was almost the opposite.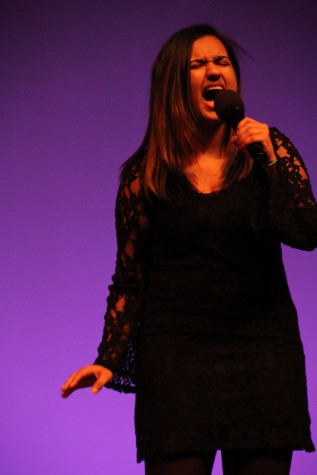 "It was very frantic," Victor said. "There was lots of people moving, getting changed, it was just very quick and all over the place."
However, the choirs still enjoyed performing.
"Being onstage is one of my favorite experiences, it really helps me clear my mind and have fun," Nammu Srinath '17 said. "The feeling of adrenaline was there and it was very exciting.
Though that week may have been hectic for Choir, the memories made and the end product produced made all the work worth it."Cabaret means something all the choirs can do together as one big performance," Victor said. "Whether you're doing solo or singing with the choir we're all together to put on a show for lots of people."
About the Contributors
Anna Chuo, Morale Officer
Besides sleeping and doing homework -- which I do a lot of -- I enjoy eating out with my friends and going bowling. When I'm out with my friends, I enjoy embarrassing them with my amazing Mazda minivan and superior dance moves. I've been known to have funny t-shirts and smashing the patriarchy.
Fallon McDonald, Photo Editor
Hi, I'm Fallon McDonald and I am a photographer for both yearbook and the news. I've been doing photography for around eight years, and this will be my third year working for Student Press. I really enjoy watching movies (my favorite directors are Wes Anderson and Edgar Wright) and then falling asleep during them. I love listening to classic rock and then dancing to it in order to embarrass my friends or parents. I spend a lot of my time laying on my dog, Maebe, or doing homework. In the occasion of free time, I hang out with friends and make it my goal to embarrass them in public through dorky behaviors.