Track and Field Wins Several Titles in District 13-6A Championships
Hang on for a minute...we're trying to find some more stories you might like.
Westwood's track and field team participated in the 2016 District 13-6A Track and Field Championships from Tuesday, April 12 through Thursday, April 14, and came away with several titles.
For many, this was the most anticipated meet of the year. Those who competed in the varsity division hoped to advance to the area meet on Thursday, April 21 in Marble Falls. Only those who placed in the top four of varsity would advance to the higher level meet.
Westwood dominated in pole vault, with students bringing home titles in nearly every division. In the freshman girls' division, Emily Lu '19 cleared 7 feet to take first, with Linette Page '19 clearing 6'06" landing in second place.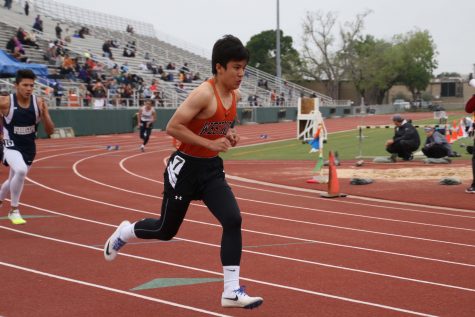 "There were a lot of nerves, because it's so easy to make one mistake and just be out," Page said. "This was my first meet doing pole vault, so it was kind of nerve-wracking, but everyone there was really nice, even people from other schools, so it was a great experience."
Ariel Whitehead '17 jumped 7'06" to bring home the JV girls' pole vault title, and Shannon Berry '18 followed with second place, clearing 7'00".
Records were broken in the varsity girls' pole vault, with Jessica Ebert '17 clearing an impressive 9'00", breaking the previous school record by 6 inches, and her personal record by an entire foot.
"Honestly, I feel a little surprised. I wasn't expecting to get 9 feet, but I'm super glad that I did," Ebert said. "I'm super excited that I broke the school record, I definitely expected to do it by next year, but I'm so glad that I got it this year."
Ebert placed second, and Sasha Bombardella '17 placed fourth, clearing 7'06". Feiyan Zhong '16 placed fifth in the division, jumping 7'00". Both Ebert and Bombardella will be advancing to the area meet.
Nicholas Sims '16 will also be advancing to the area meet, as he earned the varsity boys' district title with a height of 12'06".
"I feel I did pretty well, I've been working very hard and to be district champion, it just satisfies you after all the hard work and hours you put in," Sims said. "It was pretty special, when I started two years ago I didn't believe it when my coach said he would make me district champion, I honestly didn't believe him. It's been pretty special to improve the way I have, and I'll always look back on pole vault with a smile."
Aside from pole vault, Westwood had athletes place in both high jump and triple jump events. Claire Kubesh '19 landed in third place in the JV girls' high jump, jumping a height of 4 feet 6 inches. Alyse Gamble '17 cleared 4'08" to take sixth in the varsity girls' high jump, and Allyah Beaty '18 soared 34 feet 4 inches to place sixth in the varsity girls' triple jump. Purvi Mujumdar '19 tied for sixth in the JV girls' triple jump, leaping a distance of 30'06.5″.
There were many achievements in the discus and shot put events as well. Aidan Kubesh '19 took home the district title for freshman boys' discus, throwing a distance of 115 feet 11.5 inches. Sydney Heard '19 and Lauren Parker '19 earned second and third place respectively in the freshman girls' discus, with Heard throwing a distance of 90'00", and Parker with 78'00". Madison Couch '17 will be advancing to the area meet, heaving it a distance of 95'09" in varsity girls' discus to take fourth, and 37 feet 5.5 inches in varsity girls' shot put to land in second place.
"I feel like I could've done a lot better. My numbers for both of them were way lower," Couch said. "But with that being said, I did advance to area so I'm pretty happy about that, and I get a chance to redeem myself. Honestly, I just want to be able to go to regionals. I'd love to PR [personal record], that would be great, but if I make it to regionals I have another opportunity to do what I want to do."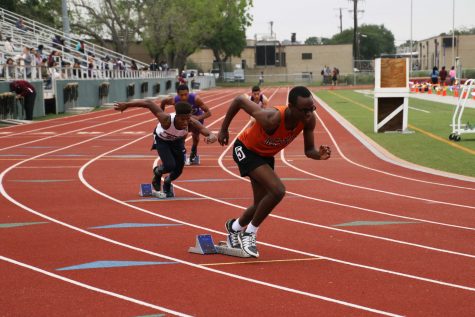 Westwood brought home many new personal records in the boys' running events as well. Karim Cisse '19 went from eighth in preliminary rounds with a time of 58.63 seconds to sixth in final rounds with a time of 58.4 in the freshman boys' 400-meter run. Sean Brady '18 placed fifth in both preliminary and final rounds of the JV boys' 400, with a time of 55.75 and 55.08, respectively.
Marley Schiesz '18 ran in the JV boys' 800-meter run with a time of 2 minutes, 10.68 seconds. Towards the end of his run, Schiesz had a great kick, and was able to overtake four people to land himself in fourth place.
The boys' relay team made up of Miles Webber '17, Jaikem Murphy '18, Te'Shon McGinnis '17, and Princeton Ugwu '17 proved successful as well, bringing home sixth place in the varsity boys' 4×100 relay with a time of 45.02 seconds. In the JV boys' 4×400 relay, Brady, James Dong '19, Aaron Gonzales '17 and Schiesz worked hard to place fourth with a time of 3 minutes, 43.21 seconds.
"As a team, I feel like we ran really well," Dong said.  "At district we ran our hardest, and we all ran about 55 second splits."

The Lady Warriors ran with all they had, with placements ranging from distance events to relays.
Page flew past her competitors and took the district title in the freshman girls' 3200-meter run, clocking it in with a time of 13 minutes, 23.7 seconds, beating her previous personal record by a grand 39 seconds and finishing a whole 300 meters ahead of her nearest rival.
In the freshman girls' 100-meter hurdles, Jenny Xu '19 placed second in both preliminary and final rounds, with 18.34 seconds and 18.12, respectively. Veda Allen '19 got fourth in preliminary rounds and fifth in final rounds, with 19.12 and a new personal record of 18.98 in preliminary and final rounds. Beaty placed seventh in preliminary rounds with 16.77 and sixth in final rounds with 16.63 in the varsity girls' 100-meter hurdles, and Miranda Primm '17 took sixth in preliminary rounds with 16.75 and eighth in final rounds with 16.78.
Following the 100-meter hurdles was the 100-meter dash, where Lu placed eighth in preliminary rounds of the freshman girls' 100-meter dash with 14.52 seconds, and moved up to sixth in final rounds with a time of 14.37. Lu ran neck to neck with her nearest competitor to beat her by two hundredths of a second.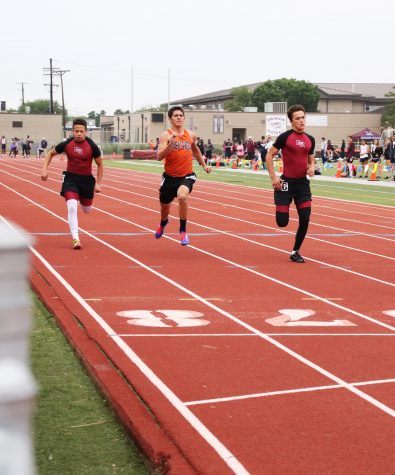 Shortly afterwards, Xu took home the district title in the freshman girls' 300-meter hurdles with a time of 52.46 seconds in preliminary rounds and 51.50 in final rounds, setting a new personal record both times. Page followed with seventh in preliminary rounds and sixth in final rounds, with a time of 56.16 and 55.44, respectively. Berry placed sixth in preliminary rounds and eighth in final rounds with a time of 54.74 and 54.79 in the JV girls' 300-meter hurdles. In the varsity girls' 300-meter hurdles, Beaty took sixth in both preliminary and final rounds, with a personal record of 48.93 in the preliminary rounds, and 49.25 in final rounds.
Gamble proved her consistency by placing sixth in the preliminary rounds of the varsity girls' 200-meter run, and fifth in the final rounds, running a time of 26.37 seconds in both rounds.
The varsity girls' 4×200 relay captured sixth place, with Gargi Sivaram '16, MéLeauna Nash '16, Gamble, and Victoria Clitheroe '17 putting in the effort to run a 1 minute 50.32 second race.  
"[Considering] we had a replacement come in, we did really good with handoffs," Nash said. "It's a pretty long race to be honest, so it's all based on how fast you can run that 200 and how long you can stay energized."
Overall, Westwood's team proved their excellence on the track and field, with several athletes advancing to the area meet.
The complete results for this meet can be found here.
About the Contributors
Jenny Xu, Executive Editor
When I'm not doing homework (and sometimes when I am doing homework) I'm usually found napping around the house. Outside of school, I spend my time figure skating. I enjoy cooing over small creatures and will wait in line for 45 minutes for some good milk tea. I'm absolute trash for all stuffed animals and...
Jaycie High, Photographer
Hi my name is Jaycie! I love chocolate ice cream and I wish I could eat it everyday. Somehow I always forget to mention to people that I have an identical twin and they freak out. It's funny. I like to take pictures and I hope to study photography in college. I have two dogs...