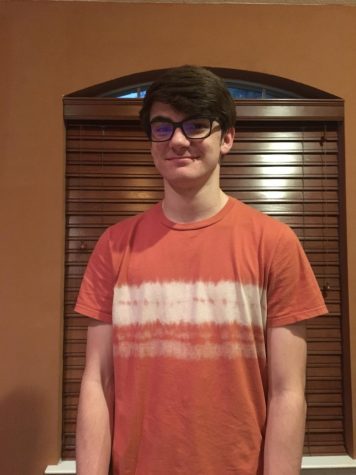 As the wise man Michael Scott once said, "Don't be an idiot." Those four words changed my life forever and now serve as my personal motto. In fact, following that simple piece of advice has allowed me to get to where I am now -- a junior at Westwood High School, a member of HOSA, and a first year reporter for the illustrious Student Press. Michael Scott's timeless adage has also helped me to maintain and grow in my hobbies outside of school, which, while admittedly limited, suit my needs just fine.
Writing, I have found, is just as much a passion of mine as playing video games with my friends and watching countless hours of Netflix. This rather newfound devotion is something that I hope I will be able to utilize in the future, possibly in the career of writing articles for medical journals or transcribing the work of doctors. Perhaps not the most lofty goal, but something that I look forward to all the same.
All in all, I hope to be the best reporter I can be for the Student Press this year and provide the masses with all the coverage and entertainment I can. And, of course, Mister Scott's magnitudinous maxim will never leave my mind throughout all that will occur; I shall never become an idiot.
Connor Cowman, Reporter
May 11, 2018

North Korea Takes Steps Toward Peace

(Story)

Apr 23, 2018

Sexual Assault Awareness Month: The Issue with 'Boys will be Boys'

(Story)

Mar 25, 2018

'Tomb Raider' Fails to Reinvigorate Franchise

(Story)

Mar 02, 2018

Norway Becomes Champion of Winter Olympics with 39 Medals

(Story)

Feb 14, 2018

OPINION: Elon Musk, The World's Most Eccentric Billionaire

(Story)

Feb 02, 2018

Chinese Scientists Successfully Clone Primates

(Story)

Jan 25, 2018

California Suffers From Series of Mudslides

(Story)

Jan 12, 2018

OPINION: It's Time To Stop, Logan Paul

(Story)

Dec 14, 2017

OPINION: Deforestation of Sacred South Korean Forest Represents Worldwide Problem

(Story)

Dec 03, 2017

Bali Volcano Threatens Thousands

(Story)

Nov 04, 2017

JV Football Falls to the Pflugerville Panthers 33-7

(Story)

Oct 28, 2017

Warriors Slay the Dragons 45-41

(Story)

Oct 19, 2017

Wildfires Devastate California

(Story)

Oct 11, 2017

Orchestra Presents the 'Music of Beethoven' for Fall Concert

(Story)

Oct 11, 2017

JV Orange Sweeps Raiders 2-0

(Story)

Oct 05, 2017

JV Orange Volleyball Declaws the Pflugerville Panthers

(Story)

Sep 25, 2017

'American Assassin' Misfires

(Story)

Sep 25, 2017
Sep 21, 2017

JV Football Falls to the Vista Ridge Rangers 34-7

(Story)

Sep 13, 2017

AP Psychology Students Create Quilt Squares

(Story)

Sep 13, 2017

JV Orange Volleyball Conquers McNeil

(Story)

Sep 06, 2017

JV Orange Volleyball Falls to Lake Travis

(Story)

Aug 31, 2017

OPINION: Kim Jong-un Makes Foolish Threats

(Story)

Aug 08, 2017

'Valerian and the City of a Thousand Planets' Falls Short of Stardom

(Story)