Surprise Mexican Folk Dance Performance
Hang on for a minute...we're trying to find some more stories you might like.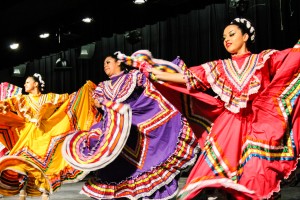 In a flurry of bright colors and elaborate costumes, students from Stony Point High School and Round Rock High School performed folklórico, or Mexican folk dance, on the stage of the cafetorium during all three lunches on September 17.
"It was nice to see such a unique, different dance," Dalton Williams '17 said.
The surprise performance was to promote the dance class offered district-wide, except at Westwood. Stony Point and Round Rock Head Director Jose Limon hopes to have a Mexican folk dance class offered at Westwood within the next two years.
"When I first started teaching, I didn't expect to be teaching folklórico," Head Director Jose Limon said. "Over time, it just became more and more of a passion."
Folklórico is a very traditional aspect of Mexican culture. The dance class offered many students from Stony Point and Round Rock to connect with their heritage.
"My grandparents came from Mexico so I wanted to continue the tradition," Daniel Ochoa '16 from Stony Point said.
Folklórico is not only a way to be immersed in Mexican culture, but also a way to exercise.
"I'm from Mexico, so I love this," Irma Pugh '16 of Stony Point said. "But, I think it's a really good exercise, too."
The folklórico dance class can count as a P.E. credit, as well as a fine arts credit. Students with an interest in the dance class can talk to either Guidance Counselor Steven Clark, Assistant Principal Kim Hodge, or Principal Lauren Arterbury about a possibility for the class offered in the future.