Football Team Celebrates Season with Banquet
Hang on for a minute...we're trying to find some more stories you might like.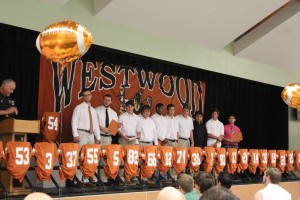 On Thursday, Dec. 11, the football team celebrated their season with a large banquet. There was food, Bush's sweet tea, and Cupprimo cupcakes. Every player from freshman to varsity was personally awarded for his hard work and dedication that he has  put into Westwood football.
"I would definitely say it is a huge time commitment," Mrs. Clements, a mom of two football players, said. "But, it's more rewarding than it is a time commitment."
The players have built character, amazing relationships with both the coaches and the other players, and strength in knowing that the coaches will be there for them to hold them accountable in a tough academic school like Westwood.
At the banquet, the coaches gave short speeches about each of the varsity player and raved about each boy and their individual strengths.
"I think that both my boys would say that the relationships they've made with both the players and coaches are invaluable and have meant more to them from the season," Mrs. Clements said. "It didn't really matter that much after the games they lost but that at the end of the season they're missing the guys the next day they were missing playing football after the season was over."
Many of the players were described as men with good character and great grades, with many of them receiving District Academics The banquet eloquently showcased what their football players had brought to the season, and that the scores don't do justice to them.
"It's disappointing how the season ended," Ian Lee '16 said. "But it's always great to be with your teammates and friends that you make along the way and be able to be with them."
Even though this season's scores did not go in Westwood's favor, the Warriors still have astounding character and academic excellence that truly shows what the football team is made of.