Energy and Environment Committee Hosts Campus Cleanup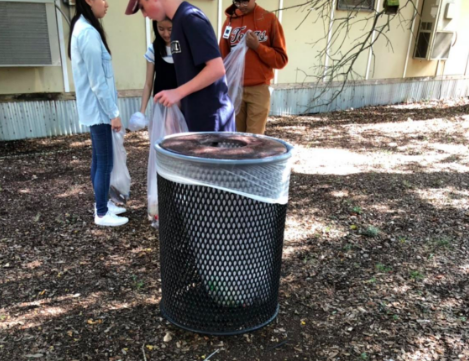 Hang on for a minute...we're trying to find some more stories you might like.
In an effort to reduce the student body's effect on our campus environment, the Student Council Energy and Environment Committee (EE) made an effort to clean up after students on Wednesday, Sept. 5.
"We all want to love on a clean and healthy campus so, it is our job to make sure it is one. Most of the trash picked up was next to trash cans," Freshman Class Representative James Thompson '21 said. "If we all took the effort to walk an extra two feet, we would never have to worry about wanting a cleaner, nicer campus."
Due to the abundance of waste surrounding the school, the event demanded an hour of the volunteers' time. All throughout, the volunteers discovered litter ranging from lunch trays to half-eaten chip packets.
"We focused on cleaning up the area around the back portables with the tables, as students often eat and leave plastic wrappers there," Executive Secretary Hannah Lu '20 said. "Other groups also picked up around the front of the school where the benches are."
With the event's message in mind, members hope to continue to promote a sense of environmental cleanliness, in hopes of bettering our relationship with our planet.
"It is necessary for students to keep their environment clean to create a healthy and happy community," Lu said. "Student Council will host more Energy and Environment events to help preserve our environment in the future."
As a part of its mission, the committee plans to advance its agenda through their upcoming global footprint fliers, which will be placed around areas of resource waste around the school.
"[EE focuses] on efforts to reduce the use of our resources and to keep our planet clean," Executive President Janice Oh '19 said. "In the future, we plan on celebrating Earth Day and promoting Waste-Free lunch, so stay tuned."