Latin 2 Students Build Candy Roads
Hang on for a minute...we're trying to find some more stories you might like.
After learning about the use of Roman roads and how they were constructed, the Latin II class spent the their block on Nov. 16 constructing roads out of chocolate.
The students learned about the roads through the culture section in their current stage, and worked on the project in order to gain a deeper understanding of how the roads were made made to last up to 100 years. Students brought in a multitude of different candy products to construct roads out of, using different products to mimic the layers of rock, gravel, and cement that were used to create a sturdy, long lasting road to facilitate travel.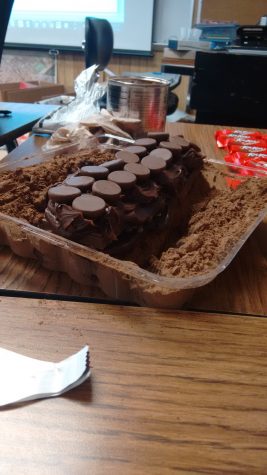 "I learned a lot about the different layers of roads and how the Romans were able to make roads that lasted a really long time," Jay Yadav '19 said.
While making the roads, students were able to learn in an interactive environment and sculpt their very own Roman roads in the same style that was used centuries ago. The chocolate roads featured cambered tops that curved down into a ditch on either side for drainage, as well as layers of candy to represent  the compacted sand, rock, gravel, and mortar that was used.
"We got to see how difficult must have been for the Romans, the parts that went into making a road, and the complications that could have happened," Shea Li Dombrowski '19 said.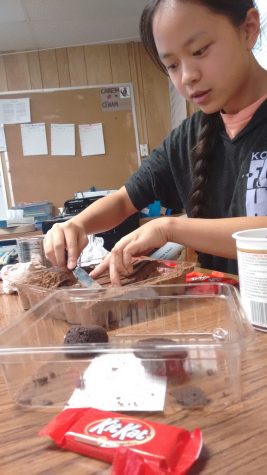 After the groups had finished the construction of their roads, Ms. Edson judged them based off of the roads accuracy and the students understanding of the process and vocabulary. Each group took on different interpretations of the construction and created unique and different chocolate structures to represent what they had learned about Roman culture.
"It was a fun way to learn about Roman history," Vivian Tran '19 said. "I learned about the different components of the road and the process and tools that the Romans used to build it."
About the Writer
Lizzie Deal, Managing Editor
When I'm not writing articles, I am usually found playing soccer, listening to music, and watching my favorite movies over and over. I absolutely love to write, and hope to be a young adult author someday. I also have a slight obsession with books, and cannot go a day without reading something, no matter how small.