JV Orange Tennis Team Beats Cedar Park
Ethan Lao, Yearbook Designer
September 25, 2015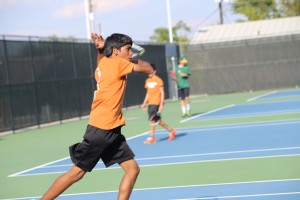 On Wednesday, Sept. 23, the JV Orange Tennis team pulled away with their second win. The team fought hard against the Cedar Park Timberwolves and managed to earn another astounding win of 17-2.
After their standard pride-filled chant to get ready for the upcoming matches, the Warriors prepared to fight against the Timberwolves. The team had been working extremely hard for matches like this, so everyone was feeling exceptionally well-prepared.
"The thing that I really like about tennis is that it is an individual sport, so you can always make yourself better for matches by practicing," Nathan Iyer '19 said.
The results clearly showed how hard that they had been practicing. The Warriors fought hard from start to finish, and the numbers reflected it. When finished with their matches, many students relaxed in the stands outside of the court watching and encouraging other teammates who were competing.
"I really like tennis because of how great and friendly the players are here, and how we encourage each other," Richard Liu '19 said.
As the competition rolled on, the teammates continued shouting encouraging words, and each time a friend would win, others offered compliments.
As the game finally started drawing to a close, all eyes were fixed on Megha Jayavelu '19 during her final match. Tied up 5-5 in a very tense match, Jayavelu fought hard to the end. Every time she scored, her teammates cheered louder and louder for her.
"I am especially proud of the girls," Coach Delgado said. "They have really improved so much, and they are still getting better everyday."
The team has continued to strive for excellence through their hard practices and their determination, and have showed it in this game against the Timberwolves.
The JV orange team will next play the Westlake Chaparrals on Sept. 29 at Westlake.