JV Orange Tennis Team Wins Against Anderson Trojans
Emily Lu, Editor-in-Chief
September 23, 2015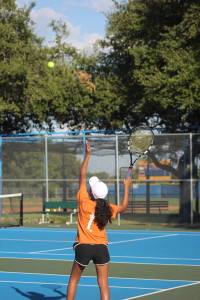 The JV Orange Tennis team won its first away game of the season on Thursday, Sept. 17. They played a resilient match against a tough Trojans team from Anderson High School, defeating them 12-6.
Spirits and anticipation were high as the Warriors started the match off strong with a team break. The chant was something new for many students, but nonetheless they joined in on this act of spirit. Pride in their voice could be heard throughout the courts, and the team was ready to begin.
The orange team participated in both singles and doubles matches. Even though the away game was a first for many Warriors in the group, they still felt fearless and positive in their sport.
"During my matches I felt really confident, and with my partner we crushed all of our opponents, and we did very well," Max Wolf '19 said.
After the Warriors finished their sets, they rested on plentiful large rocks scattered about under the shade in an effort to escape the blistering heat. Here, they had the perfect view of the courts to watch their friends and teammates fight the Trojans.
As this away game neared the end, everyone went out to watch the last match, played by Parth Gujare '18. This was an especially brutal game because of how close the score was. Gujare and his opponent had both won seven sets, leading to a tiebreaker.
"I felt really nervous playing the tiebreaker because one point can decide it all but then when my friends came and cheered me on it boosted my performance and helped me win," Gujare said.
The Warriors were sprawled across the fence, making sure to encourage their fellow teammate with his match. Spirit shone through during this moment and allowed a last victory for the team. Sportsmanship was displayed after this win; the players all circled through the Trojans with high-fives, making sure to applaud everyone's' performances.
"I'm proud because we played a really tough team and did really well," Coach Trembley said.  "Even with the matches we did lose, they were super close in score."
Students agree, but some are still looking for improvements in their play.
"I think I did well because I won doubles, but I could've done better in singles," Pritika Paramasivam '19 said. "Overall the team did really well, and I think we achieved the goal we wanted to achieve through this match."
The JV orange team will play their next match at Cedar Park on Wednesday, Sept. 23 against the Cedar Park Timberwolves.