Rouse Raiders defeat Warriors 52-28
Ethan Lao, Yearbook Designer
September 27, 2015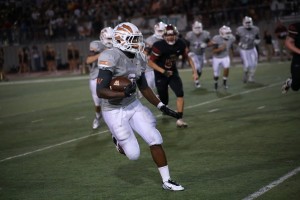 The Warriors (0-5) continued to display moments of excellence during their fight against the Rouse Raiders (1-3). Even though the Warriors had to go through some difficult moments, losing 52-28 in the end, they were still able to power through.
The game started out unfavorably for the Warriors, with Rouse scoring twice shortly after the game began. The Warriors still clung to hope, and the team, both defensive and offensive, began to strengthen. Prince Ugwu '17 managed to push through the hard Raider defense and stepped into the end zone. Shortly after, Te'shon McGinnis '17 caught a long pass and ran for another touchdown. The Raiders then managed to score once again, but the Warriors responded with a touchdown from quarterback Jack Swensen '16.
"We looked pretty good in the first quarter," Max Williams '16 said. "We were all pretty excited watching the score get so close."
The players finally got to take a break during halftime, which featured performances by the Warrior Band and SunDancers. After the SunDancers' dance to "Rather Be," the band premiered its show entitled "Let Me Fall."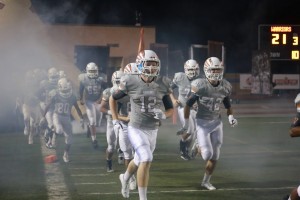 Fully refreshed after halftime, the Warriors burst out onto the field pumped up, but it was difficult to keep up with the pace of the Raiders, who scored three consecutive touchdowns. Westwood, as always, was still ready to fight back. After several key plays by Ian Lee '16 and Ethan King '17, Jake Ramsey '16 received a pass in the end zone. However, despite many excellent surges by the Warriors, the outcome was ultimately unfavorable.
"I think the Raiders did a really good job of running the football at us," Coach Wood said. "I think they had a really good game plan against us, and it showed with the score tonight."
The Warriors will next play the McNeil Mavericks on Oct. 8 at 7:00 p.m. at the Kelly Reeves Athletic Complex.
Contributions by Nivi Misra