Freshman Tennis Dominates Georgetown Eagles
Emily Lu, Editor-in-Chief
October 6, 2015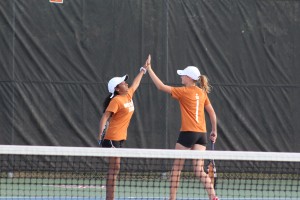 Westwood tennis dominated yet again with their freshman team against the Georgetown Eagles on Monday, Oct. 5, winning with a score of 15-4.
This game was the first official freshman team match. Prior to this, the teams were split into JV Orange and JV Black, with freshmen scattered about in each group. One of the perks of playing together as a 9th grade team is being able to compete with friends in the same grade.
"For the first time we played as freshman team together, and that was pretty cool because it was as a team, and we're all friends," Kavya Raghavendhran '19 said. "It was awesome."
Truman Le '19 agrees. Le usually plays on the black team, which for the most part consists of 10th and 11th graders.
"Playing on the freshman team I think is better for me because you just naturally hang out with your friends, like people I know instead of a bunch of sophomores and juniors, no offense to them, though," Le said.
All the players had a blast with their teammates, and it could be heard through the loud and proud cheers. The special bond helped the team to an exceptional game.
The team has been training hard, and it can be seen through the strokes of each hit. Despite the win, there is always room for improvement in order to become an even better player, and many Warriors keep this in the back of their heads.
"I think I played well, but I could've been better mentally and not gotten as mad at myself as I did," said Raghavendhran. This is important because it's commonly said that sports are 80-90% mental.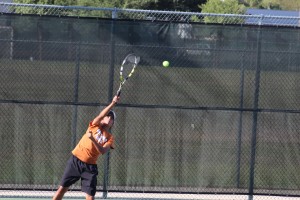 "As a team, I felt we all did pretty well," Megha Jayavelu '19 said. "We all had good consistency, as far as what I saw, and in my opinion I felt like I could have done a lot better but still ended up winning."
However, the next matches are always good opportunities to work on these weaknesses.
"I just felt I could've gone a bit better and focused a bit more but still ended up with the good news, just got to keep that in mind for the next time," Jayavelu said.
The next orange team game is an away match on Tuesday, Oct. 13 against Cedar Ridge, and black team will play the Rouse Raiders on Friday, Oct. 16 at Rouse High School.