JV Orange Tennis Wins against Cedar Ridge 15-4
Emily Lu, Editor-in-Chief
October 20, 2015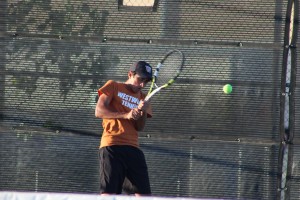 An unstoppable JV orange tennis team continued their undefeated season with yet another win on Tuesday, Oct. 13. They won the remarkable match 15-4 against the Cedar Ridge Raiders.
This game was the last for the orange team before their road to districts, so it was important for the players to fight hard and hit well. All of their training prior to this match contributed to their spectacular play.
"A lot of the kids had to play people that were ranked way above them, so I'm really proud, like Richard Liu '19 beat the #1 guy, so I'm pretty excited about that," said Coach Trembley.
To some, this match was deemed successful simply because they felt they reached their full potential through all of their strokes.
"It was a good match because I was able to focus and play to the best of my abilities," said Yutika Raina '19.
As usual, the team was fixed upon cheering for the long and exhilarating match. James Lemuel '19 played this last match, and was initially off to a 5-3 lead (some boys singles were changed to 6 game sets), but unfortunately, ended up in a tiebreaker after reaching 5-5 with his opponent. With his consistent shots and good top spin, he came out of the last points triumphant and added a win for the team.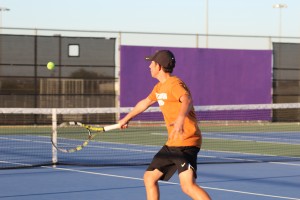 "I didn't do very well in my last match, but I still won." said Lemuel.
The orange team has been practicing rigorously to ensure success in their matches, and it's clear that has been paying off. Their determined mindset allowed everyone to end these particular matches between Westwood and other high schools on a great note.
UIL District Team Tennis Semi-Finals begin on Oct. 28 however, before that the black team will play at Round Rock and Rouse on Oct. 16 and Oct. 22, respectively.