Stony Point defeats Freshman Football
Ethan Lao, Yearbook Designer
October 20, 2015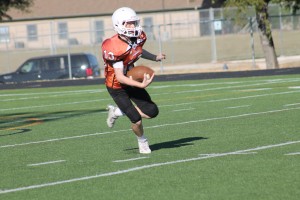 On Oct. 15, the freshman orange and white teams played against the Stony Point Tigers. This was a special game, as both the orange and white teams were combined to form only one team, due to a lack of players. Although the team lost 26-0, the players showed exemplary teamwork and heart.
Quickly after the game started, the Stony Point Tigers scored two touchdowns. But, the freshman did not let that stop them. Although the team did not score a touchdown, the rest of the half was filled with great runs by Mario Debs '19 and a great interception by Luca Mazzola '19. Quarterback Simon Park '19 also had a great run, and Nick Shropshire '19 and Johnangel Luna '19 made many strong defensive plays.
"We have shown improvement each week and will continue to get better," Coach Carter said. "We have to trust the process and not concern ourselves with the outcome."
The team then left the field to the sideline for halftime. During this time, the coaches explained what they could do to get better and play harder. After a quick break, the team headed back onto the field with strong confidence.
The second half was filled with many great plays from both the offense and the defense. Early on, Irvin Flores '19 played strong defense, making a great block. Afterwards, the defense put a stop to a play three yards away from their end zone, and on the next play, Aidan Kubesh '19 recovered a fumble, taking away the chance Stony Point had to score. Luca Mazzola '19 then made yet another interception, and quarterback Josh Lott '19 had multiple successful runs. Although the game ended with a Stony Point touchdown, the Warriors showed their commitment and teamwork.
"We will continue to set goals for ourselves each week and strive to achieve those goals," Coach Carter said. "Our ultimate goal is to prepare ourselves to be successful at the Varsity level."
The next freshman game will be against the Pflugerville Panthers on Oct. 22 at Kuempel Stadium at 5:00 p.m.