Fiona Lin '18 Hikes to Raise Money for Veterans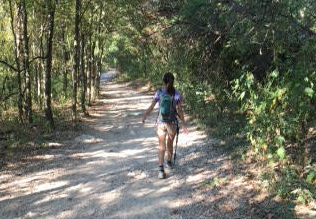 They stumbled upon the rocks and ropes and peered astonishingly at the towering massif shadowing them. Pulling themselves up with the ropes took around an hour until they glimpsed the summit. The already miniscule city of Taipei, Taiwan seemed even tinier standing from the mountain's peak. A feeling of relief and accomplishment immediately overcame Fiona Lin '18, as the journey up the mountain was very rough.
She stood with the rest of her hiking group, who were all staring in awe at the panoramic view. From that moment on, Lin's passion for hiking only became stronger, which led her to start the Walking for Warriors hiking program, inspired by Sean Gobin's Warrior Hike. Lin created her own hiking program to help raise money for the veterans participating on various hikes along America's scenic trails.
Gobin, who founded Warrior Hike in 2012, has his own story on why he decided to start this program. After returning to America from being deployed 3 times to Iran and Afghanistan, Gobin decided to hike the Appalachian Trail. Along the way, he realized that hiking the trail helped the usually-difficult transition from military life to civilian life a little bit easier. Spending time alone with his thoughts and nature not only helped restore his faith in humanity, but also helped him feel better about himself. Once he finished hiking the Appalachian Trail (which can take anywhere from 5 to 7 months), Gobin knew he wanted to start Warrior Hike, a form of recreational therapy, to help other veterans like himself. Qualifying veterans, free of charge, can choose from various trails to hike, equipped with the proper equipment and materials. However, water bottles, clothing, or backpacks aren't cheap; as a result, this program depends on donations from the public. T-shirts and alternative options of supporting this program are also offered, such as housing the veterans if you live near the trail of their choice, giving them real food, a real bed, and a real shower.
"[Warrior Hike] is really impactful on veterans' lives, and I wanted to help the program out, because I think it's a great cause," Lin said. "These veterans have done so much for us, so we should do something back for them."
After creating a Facebook page and making flyers, Lin secured 5 sponsors. For every certain amount the sponsor donated, Lin would hike a mile. For example, if a sponsor donated two dollars at one dollar per mile, Lin would hike two miles. Her goal is to raise more than $500, which can probably only buy a good-quality backpack and a couple week's worth of food for one person alone. Gobin, upon hearing about Lin's program after she sent him a thorough email, embraced it and was very appreciative of what she was doing. He was glad his program had inspired Lin to start her own hiking program and was grateful she would be donating everything Walking for Warriors earned.
Hiking materials are very expensive, especially backpacking gear. A simple, long-lasting backpack with a good frame may cost anywhere from $300-$400. Good clothing and a good pair of shoes may run from $200-$300 in total. The food veterans bring onto the trail is dehydrated and not good for them, in addition to being ridiculously expensive. Shelter, sleeping bags, and a range of temperatures provides more difficulties and requires more money. Lin hopes that her program will evolve and reach more people, especially avid hikers.
"I hope that more people can be familiar with this program and get their own sponsors, so we can raise even more money for Gobin's program," Lin said.
Walking for Warriors has nothing to do with Westwood Warriors (that wasn't Lin's intention), but she is open for anyone from school to join, find their own sponsors, and hike! She plans to donate everything earned as one unit and continue this program for a very long time.
"I know that Warrior Hike is truly making a difference in our veterans' lives," Lin said. "And our Walking for Warriors program, in turn, is changing America's heroes' lives."