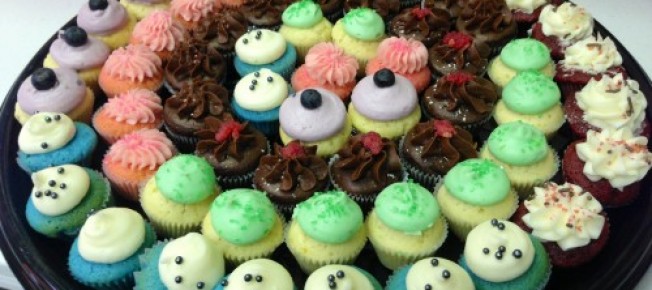 Cupprimo Cupcakery is a family owned and run cupcake bakery located at 8650 Spicewood Springs Road Suite 105, Austin, TX 78759, that specializes in cupcakes, coffee, and tea. The small restaurant offers a variety of moderately priced cupcakes including different flavors daily and seasonal flavors. In 2004 Cupprimo Cupcakery represented Austin in Food Network's "Cupcake Wars", a competition where four bakers compete head to head in a series of rounds to test their baking ability. Although their cupcakes weren't favored by the judges, Cupprimo is definitely a popular hangout place for many Austinites.
Cupprimo serves freshly-baked cupcakes everyday, including Primo Vanilla, Double Chocolate, Red Velvet, Strawberry, Blue Velvet, and Pumpkin Chocolate Chip. Some special flavors are only available on certain days since each day has its own set of flavors. I went on a Thursday so the special flavors for that day were as follows:  Longhorn Brownie, Cherry Cheesecake, Oreo Blast, Chocolate Elvis, and Salted Caramel. Out of these I tried Red velvet, Primo Vanilla, Blue Velvet, and Double Chocolate. Though my party and I did go later in the day when the cupcakes weren't fresh out of the oven, the cake itself was a little dry and kind of a mouthful so make sure you have a drink to wash it down. I found that the icing was a perfect mix of sweet and creamy. Overall the cupcakes weren't really anything beyond my expectations yet they were quite delicious. For anyone who is looking for a great gluten free cupcake, Cupprimo also offers three flavors of gluten free cupcakes each day. Cupprimo's S'mores cupcake, only available on Saturdays, won the award for the Austin Chronicle's "Best No Fire S'more" in 2011. Though I have not personally tried it, I have read many reviews and look forward to trying it for myself.
Moving onto the actual restaurant itself, it has more of a hangout kind of feel almost like a Starbucks or a place you can go not only to eat cupcakes and drink coffee or tea but also a quiet calm place to study or hangout with friends. Cupprimo also has a very inviting and Austin-y feel with hanging lights, the original brick wall foundation, colorful accents and also a small room in the back with couches. All around the walls are pictures of the original family that owns the business. The restaurant also has a few small tables and chairs outside.
Overall, the calm, quiet aspect of Cupprimo Cupcakery makes it a great place to go to hang out with friends or even by yourself, and eat delicious, moderately priced, cupcakes!