Jack Allen's Kitchen Grows in Popularity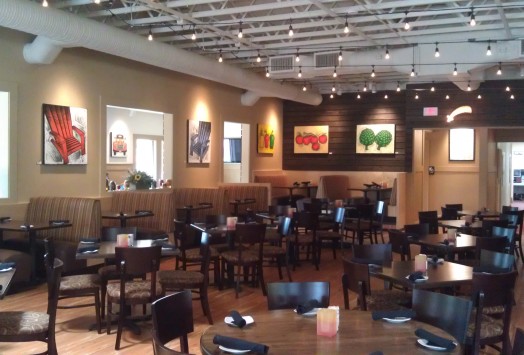 Located near Westlake Apartments off of Loop 360, Jack Allen's Kitchen is a casual Southern-inspired restaurant that prides itself on its partnerships with local farms; 85% of their dishes are made with fresh, locally sourced ingredients.
The restaurant features a heated outside patio, as well as a brightly-lit bar and booths and tables inside. Bouncy, jazzy music suffuses the air, while strings of tiny bulbs on the ceiling provide just enough light to set a warm atmosphere. The interior is clean and well-decorated, with light wood paneling and local artwork hanging on the walls. Small shelves of mason jars are also interspersed throughout the restaurant, displaying pickled goods that are sold for customers to enjoy at home.
The friendly wait staff are eager to explain the daily specials and answer any questions one may have. The menu they present consists of a variety of chicken, fish, and steak dishes, as well as appetizers, salads, tacos, burgers, and even chicken-fried items. A small serving of flatbread crackers with homemade pimiento cheese comes as a complimentary taste of the larger version offered on the menu.
Portions can vary depending on the dish; I ordered the chicken-fried chicken, which was rather large and fulfilling, while my companion ordered chile mango shrimp tacos, which were definitely smaller.
No matter the size of the meal, it is imperative to save room for dessert. Delectable treats such as blondie pie (a white chocolate walnut Tollhouse cookie baked in a pie crust and served with Amy's Mexican vanilla ice cream) and the chocolate bomb (a thin chocolate cake topped with chocolate mousse and covered with a hardened chocolate ganache shell, served with almond florentine, espresso cream, and raspberry sauce) can persuade even the fullest, most frugal diner to order dessert.
Overall, the service is excellent and the food delightful. Some reviews have mentioned the booming popularity and wait time, but personally I have not had a problem with getting a table. For anyone who might be worried about waiting, the restaurant also takes reservations. Open for brunch, lunch, and dinner, Jack Allen's Kitchen is the perfect place to enjoy a meal with family and friends.