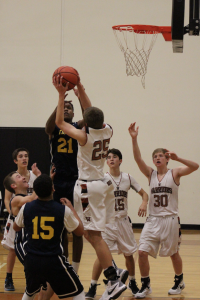 The freshman orange and white teams challenged the Stony Point Tigers in two close games on Jan. 12. The orange team lost by only a few points, with an end score of 51-57, and the white team was able to hold on to a slim lead, winning 58-55. Despite the one loss, both teams were successful, playing with an aggressive offense and a strong defense.
The orange team started off their game with great ball movement, allowing the team to quickly gain a lead. Although the ball was stolen numerous times, the team held their ground, including multiple three pointers scored by Corey Levinson '19 and Patrick Sladek '19. After halftime, the team came back with renewed strength, setting up a successful offense led by Mohan Hegde '19. However, even with the team's fast breaks, the Tigers were able to catch up in the last quarter, taking away a win from the downcast team.
"I feel that during the game, the team was able to distribute the ball to one another successfully allowing us to have a stronger offense," Levinson said.
After the orange team's loss, the white team set off to put up a stop to the Tigers. The game started with the Warriors playing great defense, making it difficult for the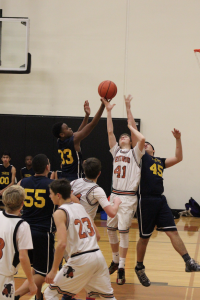 Tigers to penetrate and drive to the basket. Paul Camardo '19 scored multiple times from aggressive drives to the basket, giving them a lead early on in the game. After halftime, the team came back, stealing the ball multiple times with a defense led by James Joh '19 and Adam Kelley '19. Although the Tigers caught up, making it a close and intense game, the Warriors held on and won the game.
"The team had great ball movement that created open spaces under the basket," Joh said. "We were very aggressive in attacking the basket rather than shooting long distance shots. Our defense was very tight as well."
Both the orange and white teams played strongly against the Stony Point Tigers. Despite a loss from the orange team, they were able to set up both a great offense and defense.
The freshman will play next at Pflugerville High School against the Panthers on Friday, Jan. 15 at 5:30.