Paws-itive Project: RRISD Hosts Doggy Dash
RRISD hosted the 2016 Doggy Dash at Purple Sage Elementary School from 9 a.m. to 12 p.m. on Saturday, Feb. 27. Proposed by Student Council, the Doggy Dash helped to raise awareness for military dogs. Volunteers came from Westwood, McNeil, Round Rock, and Stony Point. Admission was $2 for each person attending.
Several activities were available, including a demonstration of the jobs military dogs carry out. A fashion show for dogs followed the demonstration. Those attending were encouraged to dress up their dogs in the most interesting clothing they could think of. A variety of outfits were seen, ranging from cute tutus to a devil costume.
"My favorite part was definitely the fashion show." Freshmen Representative Khadeeja Shah '19 said. "All the dogs were dressed up and looked really cute. The fashion show was a fun way to get the community together, have fun, and raise awareness for the dogs."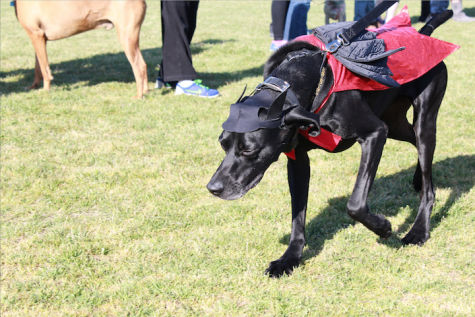 Once the fashion show concluded, students and dog owners alike set out for a walk on a nearby nature trail. Students weren't the only ones attending — a few school administrators were present as well.
"[Military dogs] save people's lives, and keeps it safe for the soldiers." Associate Principal Ms. Kim Hodge said. "[This event] helps raise awareness, and it gets people together with other dogs, and it makes it fun."
With the nature walk, volunteers aimed to encourage physical activity.
" It's a good way of raising awareness because we're also promoting fitness to our community and it also brings us all togeth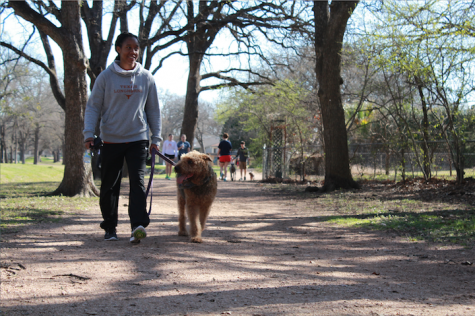 er since it's a district wide event." Freshmen Co-President Lauren Parker '19 said. "It's important to educate others about military dogs because they do so much, not only for our local community but for our country, for those who are paired up with the forces."

The 2016 Doggy Dash successfully brought attention to the role military dogs play in everyday lives and helped educate others on the importance of these canine helpers.
Leave a Comment