Freshmen Honored with Academic Awards
The Freshman Academic Awards were held in the Field House on the morning of Wednesday, April 28. Students receiving a 4.0 GPA or higher in their classes were honored at the ceremony for their academic accomplishments.
The Class of 2019 had an astounding 407 students receive this award, meaning more than 60 percent of the entire class had such a GPA. These Warriors were able to maintain an A average in their on-level classes, or B's and A's in pre-AP and pre-IB classes. 9th Grade Principal Mr. Alan Hildebrand mentioned this percentage is the largest Westwood has had in several years.
The ceremony was opened with a presentation of our colors, as well as remarks from the class of 2019 co-presidents, Lauren Parker '19 and Eesha Nayak '19. Mr. Hildebrand and Principal Mrs. Laurelyn Arterbury also spoke about these academic achievements and encouraged students to stay involved throughout their high school years. Each student was presented with a certificate beforehand, and walked to greet the administration as their name was called. Proud parents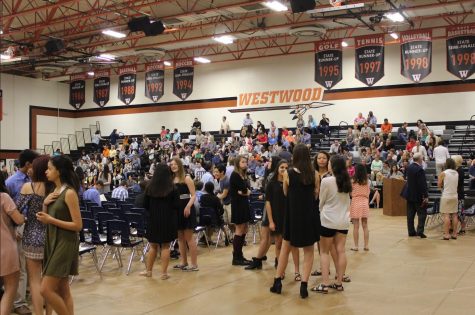 Photo by Katie Chung
watched on, keeping Mrs. Arterbury's thought of how quickly high school will go by in mind.
"We invite you to stay involved throughout your experience in high school because while it may seem like it drags on forever, I promise you with a blink of an eye, you'll be walking across the stage at the Cedar Park center with mom and dad crying in the audience," Mrs. Arterbury said.
As promised, several gift cards were distributed as well that morning. Students who attended the awards ceremony were entered in drawings for 15 $10 Starbucks gift cards.
Westwood Warriors continue to impress with their high academic achievements. Ever since the beginning of freshman year, these students have strived for greatness in the classroom. Congratulations to all who received this award!