Black Prevails in Annual Orange vs. Black Swim Meet
Emily Lu, Editor-in-Chief
September 9, 2016
The swim team kicked off the season with their annual intra-team Orange vs. Black meet on Thursday, Sept. 8. With a combination of new swimmers and seasoned upperclassmen on both teams, it was a close competition between the two, however in the end Black succeeded.
The team was split into two by the captains: Anne Feng '18, Sofia Martinez '18, Siddhant Shetty '17 and Ryan Cain '17. These leaders were in charge of making sure the spirit among their side was high and everyone was ready to put up a good fight. Swimmers were seen donning their respective face paint colors the previous day in order to show their team pride.
Each event swam was cheered on by the loud support of athletes and parents alike. Warriors were lined up along the opposite side of the pool to encourage their teammates as they finished a lap.
"When I swam the 500 free, that was pretty fun and exciting because everybody cheered me on," Atharva Joshi '20 said. The 500 yard freestyle was the longest event in this meet, which featured a strenuous distance of 20 laps. However, Joshi clearly held his own as he finished second, only .06 seconds behind Cain.
"The most exciting part of this meet is always watching my new swimmers compete against my veterans," Coach Matt McBrearty said. "There are always a few surprises.  We had a few freshmen immediately establish themselves as big time contributors this morning on both the girls and boys side."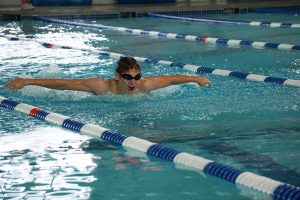 The relays were another lively event as four swimmers each swam a certain length to try and contribute to a victory for their side. The team also has a special ritual after each relay start. Those swimming the next leg of the race kneeled and held up the Warrior hand sign, bringing it down with a "whoosh" when the starter dove in.
"The most exciting part was probably the relays, because I got to cheer on my team and encourage everybody," Haley Betron '20 said.
Close scores from both the boys and girls' races proved the quality of the competition. The girls on the Black team finished with a point total of 199 while the boys earned 195 for a total of 394. Orange team fought hard to earn 180 points by the girls and 182 from the boys and amounted to 362. Regardless of the outcome, swimmers were able to strengthen their team while preparing for their upcoming season.
"All meets are a great bonding experience for our team," Coach McBrearty said. "They are so good at supporting each other. This is the first step in a long season together."
Their first official competition will be on Thursday, Sept. 15 at the Micki Krebsbach Pool at Round Rock High School.