Swim and Dive Succeeds at Tri-Meet
Emily Lu, Editor-in-Chief
October 17, 2016
Warriors dominated at the annual Tri-Meet against McNeil and Anderson High School on Saturday, Oct. 15. Both girls and boys finished on above their competitors, ensuring a combined point total of 254 over McNeil's 196 and Anderson's 193.
Despite unfavorable conditions at the pool, the team was determined show the hard work they've put into practices and training, and finish the meet with a win.
"We just really wanted to beat McNeil and Anderson," Rory Gatson '17 said. "We haven't been doing that great this season, and beating McNeil was good for us because we just wanted to prove to ourselves that we can win districts."
Individual first place finishers included Joshua Louie '20, Evelyn Ngo '19, Kyle Varozza '18, Alex Hao '18, Liam Tan '17, and Angela Wang '17. Baron Close '18, the team's only diver, also triumphed over his other competitors.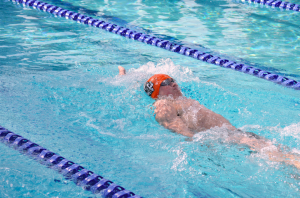 "Westwood did great as a whole, everyone did good, everyone did great actually," Ethan Riser '19 said. "Everyone contributed great, they were cheering for everyone."
The team also found success in the relays. Each one was completed with times among the top three in the event, which added points to the teams' already high individual contributions.
"When you're in a relay, you just always want to push everyone else on your team to go faster because you want to win and you want everyone else to win, so it's a really great experience," Grace Castelino '20 said.
The swim and dive team has their next meet, the RRISD Invite, on Saturday, Oct. 22 at the Micki Krebsbach Pool.