Varsity Tennis Dominates at Districts But Looks Beyond
The varsity tennis team continued their winning streak by pulling off a 10-0 victory against Round Rock High School and successfully claiming the district title on Thursday, Oct. 6. As their seventh consecutive 13-6A championship, the team displayed their consistency and skill developed in the effort they put in into every practice.
Heading into this game, most players were relatively confident they would triumph their Dragon opponents. The competition, as usual, began with doubles matches.
"All the kids played great in doubles and we got off to a very fast start," head coach Travis Dalrymple said. "They captured the net very quickly."
This victory only helped to exhibit the tremendous work the team has put in, starting even before the school year began. Players train countless hours every week to perfect their strokes and improve their game.
"We practice every day unlike some schools where they go home after school; we stay for two more hours, and we're really dedicated," Sofie Kardonik '19 said.
The last match was especially meaningful, with teammates cheering on Gaurav Singh '20 and celebrating what would be the twenty second district championship for the tennis program by storming the courts.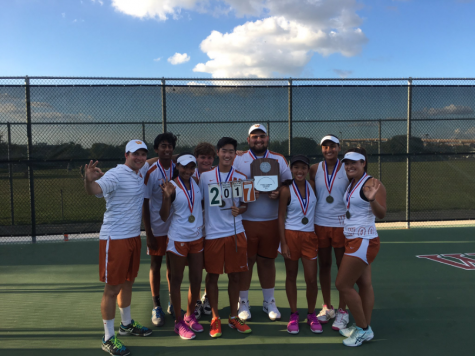 The realization that this would be their last district game dawned on many of the seniors. As their last year, this only contributed to an added hunger for something more than a 13-6A title. Regardless, their final times playing with this team were sure to evoke emotion and pride. Even for other players, the win was a meaningful moment with this particular team.
"We experienced it with [the seniors], and we were there for their emotional rollercoasters of up and down," Kardonik said. "It was very memorable; I thought about how it's going to be different next year, it's the last time with this team."
The success at districts, a usually phenomenal feat, has now become more of an expected outcome for the team currently ranked fourth in the state.
"Coach always tells us that it's not as exciting as it used to be because to us it's just kind of standard," Alec Baskerville '17 said. "I've won it all four years, and honestly the team is very strong so we have a pretty decent chance of winning state."   
The achievement is instead one of the many steps towards a much larger dream.
"For our team, our goal is to make state, and to do that we'll have to beat Memorial at regionals which is going to be tough, but we're putting in lots of hard work and we hope to get there," Leonard Wang '18 said.  
Players are enduring more to turn this aspiration into reality; they have increased their already strenuous practices beyond even the coaches' expectations. This goal is sought after by the entire team, and every player is making sure they contribute their very best to ensure a steady path to capturing the state title.
"On the weekends we're trying to play extra, even more than Coach wants because this is something that the whole team wants not just a couple of people," Kardonik said. "The realization is that this is our biggest chance, our shot at state. We're going to have to bring everything we have."
The Warriors will continue their bright journey to state with their upcoming area match on Monday, Oct. 17.
Leave a Comment
About the Contributors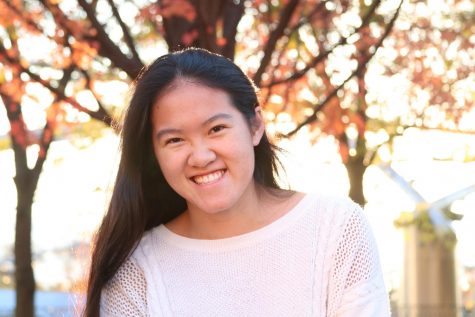 Emily Lu, Editor-in-Chief
I've always been a storyteller, and I fell in love with journalism as an outlet to express my voice and share stories. When I'm not in the newsroom, you...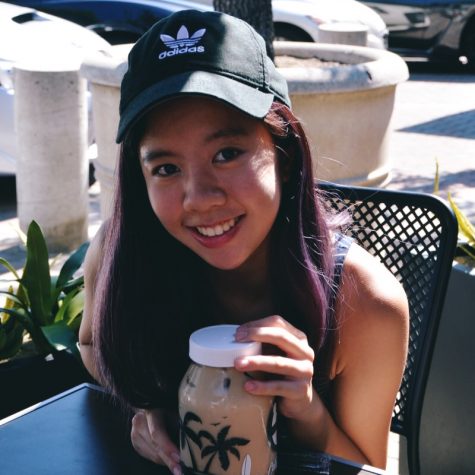 Jenny Xu, Executive Editor
When I'm not in school, I spend my time figure skating and coaching skaters of all ages. I'm absolute trash for all stuffed animals, and sometimes I'm...