Freshman Orange Girls' Basketball Beats Out Rival McNeil
On Friday, Jan. 6, the Freshman Orange girls' basketball team took on McNeil in a rivalry game. With good teamwork and ball handling skills, the Lady Warriors were able to beat the Lady Mavericks 56-28.
The Lady Warriors came out strong with a three-point shot by Riley Hammock '20 in the first two minutes of the game. The Warriors continued to gain their lead with two free throws by Leah Zahn '20. With 2 minutes 58 seconds to go McNeil called a timeout, but the girls were not shaken and had a lead of 16-3 at the end of the first quarter.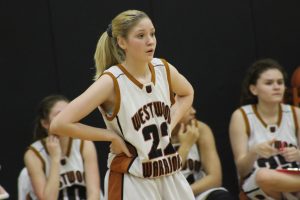 The Lady Warriors defense stayed strong coming into the second quarter. With tough man-to-man defense, the Lady Mavericks had few shot opportunities. However, with fouls caused by Westwood, McNeil was able to gain points. The Warriors still held their lead of 29-13 going into halftime.
"This was an important game for us to win because McNeil is a rival school and we want to represent our school," Hammock said. "Pulling out a win was a great thing for our team."
After halftime, the Lady Mavericks and Lady Warriors came out strong on defense and rebounding. Both teams had multiple shot attempts, but the score remained at 29-13 until Jaslyn Williams '20 made a three-point shot with 2:43 remaining in the third quarter. Following Willliams's shot, the girls were more successful in scoring, and the Warriors maintained their lead of 35-18 at the end of the quarter.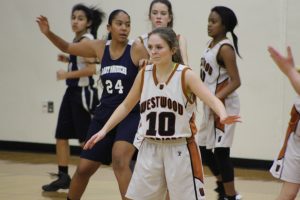 The Warriors' play continued with successful shots by Mia Kuge '20 and KK Jenkins '20 in the fourth quarter. The possession of the ball continuously switched between the teams, but with the Lady Warriors' rebounding skills they were able to move the ball down the court and score. This allowed them to win with a score of 58-28.
The Freshman Lady Warriors will take on Stony Point in their next home game on Tuesday, Jan.10. Go Wood.