JV Girls' Basketball Dominates Hendrickson
Emily Lu, Editor-in-Chief
January 10, 2017
With strong attacking drives and a staunch defense, the JV girls' basketball team dominated the Hendrickson Hawks on Tuesday, Jan. 3. Players executed zone presses well to end with a score of 60-32.
"I think it was a big win for us, because last year they were a big powerhouse school so they were difficult to defeat so the fact that we swept them all was amazing," Christy French '19 said.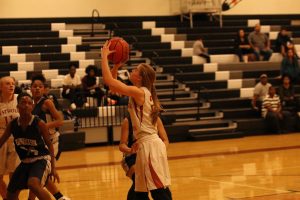 After gaining possession from the opening tip, the Lady Warriors were able to score nine straight points before their opponents added two to the board. French retaliated with a rebound and another offensive charge. After Annalise Galliguez '20 shot a three-pointer and both her free throws following a foul, the score became 16-4. Izzy Barber '20 also hustled for a steal to allow Kooper Kaison '20 to finish with a layup. Before the quarter ended, Archita Sivakumar '18 was subbed in and shot a three-pointer, making the score 21-4.
The second quarter featured a savvy pass early on from French to Todd, who added two points to the board. Sivakumar displayed her versatility with both layups and steals from the Hawks. Though after this the two teams fought for possession and had scoreless runs, Galliguez ended the streak with an assist from Lily Swank '19. The half ended with a score of 33-9.
"We both were kind of the same at the beginning but we were able to create momentum in the game," Galliguez said. "We were able to handle their pressure more than they could handle ours. We just knew that we had to attack their defense."
Coming back from halftime, Todd deceived her defender with a pump fake and added two points. She also had a quick putback from French's missed shot to increase the score. With the board at 37-11, JV coach Jamie Coy called a timeout to review their strategies. The quarter finished 45-18 with additional points from Karissa Simchick '18 and Sivakumar.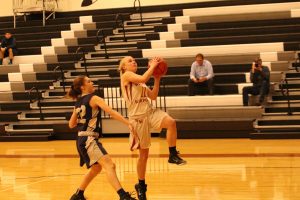 Though the Lady Warriors' defense began to slip throughout the fourth quarter, Sivakumar and Galliguez led the attacks to maintain their lead. Galliguez forced a turnover to drive through the Hawks' defense and scored two points. With points racked up from Sonali Dayal '19 and French, the team won with a final score of 60-32.
"I think we could have stopped them better defensively, we gave up way too many offensive rebounds, and we just didn't rotate and take care of the backside," Coach Coy said. "But as a team, we attacked the basket really well, we're communicating better. I think we continue to grow."
The JV girls hope to continue their strong season in their next game against the McNeil Mavericks on Friday, Jan. 6 at 5:30 p.m..