Paige Etherington '17 and Annie Rose Leggett '17 Set Their Way to Nationals
Energy buzzes around the stadium; hues of red, white, and blue whizz around the court. Players dive for every save, yells between teammates are drowned among the distinct hit of the leather ball. They, along with the vigilant audience, know what's on the line. For many, the Lone Star Classic Qualifier is their chance to make it big, to advance to the Junior National Championships.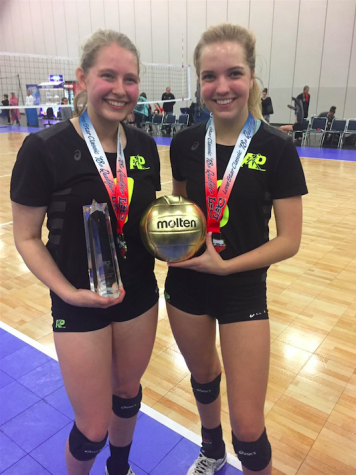 After playing three days of tournaments against top ranked teams across the nation, seniors Annie Rose Leggett and Paige Etherington of the 18 Asics of Austin Performance Volleyball (APV) finished first at the qualifier, successfully earning their bid to Nationals.
The qualifier consisted of teams from across the US, who all competed for the two coveted spots to advance to Nationals. Texas is one of the strongest volleyball states in the country, and since the tournament was held in Dallas, the teams knew they had to battle their way to the top two.
"There's so many different teams from all over the nation, and just because Texas is so competitive in volleyball, the top eight teams were all from Texas," Etherington said.
Prior to the competition, the team endured losses in their past tournaments, but were determined to comeback with a strong finish when it mattered the most. Not only did were they occupied with practices lasting two to three hours three times a week, players also took it upon themselves to work out on the side.
"Practicing and preparing for this specific tournament, everyone was working really hard," Leggett said. "We never took breaks and we really pushed through all the practices to get the goal that we wanted to finish first."
Beginning on Friday, March 3, teams were entered into a bracket tournament to determine the ultimate winners and qualifiers. Each team they played against proved to present another challenge. With different strengths and weaknesses presented in their changing opponents, the strategy used was revised each game. The team's grueling practices allowed for better preparation during the tournament as they climbed their way to the top.
"It doesn't matter if a strategy worked for one team, it may not work for another," Etherington said. "We've definitely put so much intensity into our practices to make sure we're always prepared."
The 18 Asics finished the tournament 8-1, while their set record was 17-4. Energy and competition ran high throughout the entire event, and the intensity amped up especially towards the last rounds. The team they played in semifinals were one of the highest ranked in the state, however they were able to defeat them to successfully advance to not only the finals, but also earn their Nationals bid.
"The game before the final match was what qualified [us]," Leggett said. "We had one more and that's was just to win first place, so it was kind of like cherry on the cake to finish first after we qualified."
The fight for the top spot ultimately fell against Alamo 18 Premier, a team the 18 Asics had lost to twice before in the season. However the girls continued their dominating streak for a final
"Everyone was really dedicated in all of those games, especially the last couples ones," Leggett said. "We wanted to win so bad and it was a three-day tournament, so it was the last day, physically we were so tired but mentally we just wanted to win. I really pushed myself like I haven't before."
Though school games include an array of family, friends, and teachers in the stands to support the team, official tournaments generally have a more serious atmosphere that comes with a different mindset. However, players received energy unlike any other from the audience, making the final round a high-intensity game.
"We all came together and we played so well, and the energy the entire game was so high," Etherington said. "The energy that was compiled from that game just shows how intense and competitive we were with [the other team]."
Etherington and Leggett have played together on both high school and club teams, and cite that experience for their close bond. The positions they play have also allowed them to develop a unique connection, as Etherington is a setter while Leggett is a hitter.
"It's been really cool to grow together throughout the years playing on a team together, and it's been really cool to experience everything with her," Leggett said.
Both have committed to play Division I collegiate volleyball. Leggett has signed with Trinity University for the upcoming school year, while Etherington recently committed to play at Georgia State.
"I'm super excited to be a part of that family and the program is so strong there," Etherington said. "And also it's really nice that we play Texas State in our conference so I'll be able to come home a little bit."
The signings come from years of training and dedication in school and club volleyball. Leggett was announced as the Lady Warrior team MVP for the 2016 season and named to the All-District First Team. Etherington was nationally recognized for breaking one thousand assists and awarded the Lady Warrior Offensive MVP. Both players were also named by the Texas Association of Volleyball Coaches to the Class 6A All-State First Team.
In addition to higher intensity practices for their preparation, the 18 Asics will be travelling to Indianapolis to face off against advanced teams. They also plan on practicing with the University of Texas at Austin Men's Volleyball team to enhance their training for the magnitude of play at a national tournament.
"Men hit harder, they hit higher they jump higher they're taller, so being able to hit around a 6'7" block you'll be able to hit over a 6'3" block a lot better," Etherington said.
With their new gold ball, trophies and medals, Leggett and Etherington look forward to the road ahead of them, with hopes of ultimately winning the Junior Olympic tournament.
"I think we can win it," Leggett said. "If we keep playing like we did in the last tournament, we keep working hard and have that same work ethic, without a doubt I believe in our team that we can win this tournament."