Warrior Pride Showcases Choreography at Extravaganza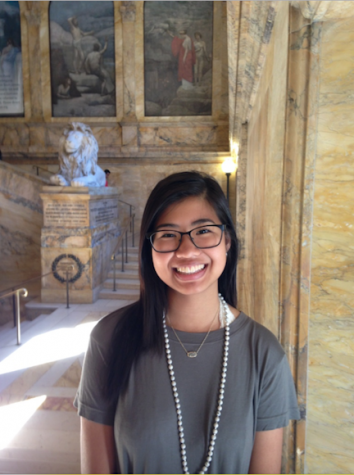 More stories from Emily Chang
Warrior Pride concluded the year with their annual showcase, Warrior Pride Extravaganza on April 21 in the Small Gym. The dance team performed group dances from throughout the year (a contemporary dance to "Simple Man" by Lynyrd Skynyrd, a hip hop to "Pep Rally" by Missy Elliott, and a novelty to "Make 'Em Laugh" from the Singing in the Rain movie). Warrior Pride also demonstrated their individual talent in group/solo choreography projects.
"Pretty much we've been prepping for this all year long, we started learning team routines back in August," Warrior Pride Director Angel Scrudder said. "In the beginning of March we've really been working on all our choreography and the new pieces that we've joined, we've been working every single day for a long time."
The team dedicated hours of work and preparation into the showcase, attending additional morning practices and taking extra time to hone their individual projects.
"Showcase involves a lot of work on the side from us, because we had a lot of individual choreography projects," Asha Rao '17 said. "We had a bunch of rehearsals, that was basically it. Just a lot of practice."
The additional choreography projects allowed the dancers to explore their own style of dance, as well as push their bodies to new extremes.
"I think it's best for them to grow and to learn, and it's a great opportunity for them to get to express themselves in a way that they don't always get to do so," Mrs. Scrudder said. "Creative expression is also a good learning tool, it improves them as a dancer to have to come up with movement on their own, and I think it also looks better on them because it feels comfortable in their body."
The choreography projects also allowed Pride members to experience collaboration and to work in smaller groups.
"There's always pros and cons with working in a group, but I think we worked well together," Thyra Funderburk '18 said. "There's always times when you don't want someone's feelings to get hurt but you think you might have a better idea for the group, and other times when everyone isn't cooperating. But other times are great when the group is working so efficiently and putting passion into it. Every year that's kind of a struggle but it always seems to fall in place."
Prior to the performance, Warrior Pride held a full dress rehearsal. The team held soundchecks for their music, practiced costume changes, and received critiques from Mrs. Scrudder and co-director Mrs. Marla Valk. As a result, the performance ran smoothly, with only a minor playback issue in the finale dance.
"It was really tiring because there was a lot more going on behind the scenes — running around, costume changes, and stuff like that — that you can't actually see from the stage," Rao said. "But it was still a rewarding experience."
The Warrior Pride Extravaganza was the last time the senior Pride members danced alongside their team members. They performed a senior hip hop dance to "I'm Better" by Missy Elliott.
"[It's] bittersweet — they are such a talented and wonderful group of girls," Mrs. Scrudder said. "I'm really gonna miss them. It was fun to see them in their element on more time."
Leave a Comment
About the Writer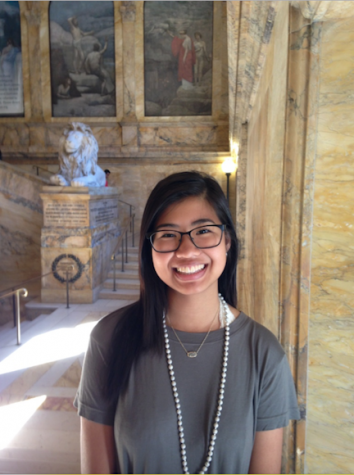 Emily Chang, Executive Editor
Hi, I'm Emily, and I'm the Executive Editor of the Westwood Student Press. I love reading and designing, and I hate avocados. I always have music playing...