Debate Continues on Path to Success
Jenny Xu, Executive Editor
September 15, 2017
After sending a record number of students to compete at Hendrickson High School, the Westwood Speech and Debate team continued on their path to success at the 29th Annual Grapevine Classic on Sept. 8-9. Ranked 10th nationally, the team came home with six qualifying bids to the Tournament of Champions (TOC), a highly prestigious and competitive national tournament. Two bids were earned in cross-examination (CX) debate, three were from Lincoln-Douglas (LD) events, and the remaining one came from Public Forum (PF).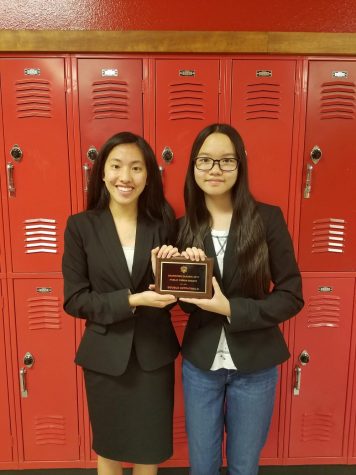 "I think at this tournament we did particularly well, we beat our expectations and as a school we also did really well," CXer Ritik Goyal '18 said. "We encouraged ourselves and I think that's the reason we exceeded expectations."
Seniors Krithika Shamanna and Neeha Bandlapalli earned first in PF, while Rohith Mandavilli '18 placed second in LD. Both CX teams took home bids for the first time, while also earning six out of the 12 Texas Forensic Association (TFA) state points required to qualify for the tournament.
"[We had] a drastic improvement from junior year to senior year," CXer John Cho '18 said. "We did a lot more work and preparation for this tournament, and the camp we went to for six weeks at the Wake Forest University really helped us get ready for the upcoming season."
In addition to attending summer camps, members of the Speech and Debate team spend weekends at tournaments and many school nights preparing for the season.
"They did surprisingly well, and I think it comes to show a lot of their work ethic and that the last four years are starting to pay off for them," debate coach Ruishi Wang said. "I think that this year it's really catching up to them for their success."
As the Speech and Debate team continues into their season, they'll be aiming for more bids and TFA state points.
"After this tournament, I think it's something where we have to raise our expectations and goals," Mr. Wang said. "I'm hopeful that they will do well and follow the trend, and we're also hopeful that they will make it to some of the deeper elimination rounds and get more bids and national success."
The full results for the tournament can be found below.
CX – John Cho and Jack Shen – Semifinals and 2nd Seed (Bid)
Ritik Goyal and Anthony Nguyen – Semifinals and 9th Seed (Bid)
LD – Rohith Mandavalli – 2nd Place and 2nd Seed (Bid)
Jugal Amodwala – Semifinals and 3rd Seed (Bid)
Rishabh Shah – Octafinals and 18th Seed (Bid)
Abby Grifno – Double-Octafinals and 27th Seed
PF – Krithika Shamanna and Neeha Bandlapalli – 1st Place and 4th Seed (Bid)
Bernice Chen and Grace Chen – 29th Seed