Swim and Dive Top Regionals, Advance to State
The swim and dive team found historic success at the Region III-6A meet at the Rockwall Aquatic Center on Feb. 2 and Feb. 3. 27 Warriors qualified from the district meet, while 25 advanced to finals and 11 qualified for State.
"I was really, really excited," head coach Matt McBrearty said. "You center the whole season on the team swimming their best there and it's a complicated thing to try and pull it off, and they were really tremendous."
The boys' 200-yard  medley relay team, consisting of Staley Varozza '18, Matthew Lane '18, Joshua Louie '20, and Kyle Varozza '18 finished on top of the podium. The boys' 200-yard freestyle relay with Lane, Cole Hebert '19, Alex Hao '18, and K. Varozza also took silver. Lane placed first individually in the 100-yard breaststroke event as well.  
"I was happy, I was more happy for the younger kids on our team to be able to see somebody achieve success from what they worked so hard for," Lane said. "That there is light at the end of the tunnel, there is something for them to look forward to. I was just happy that I could hope to be a source of inspiration to them."
One of the underclassmen, KyAnh Truong '21, earned a bronze medal in the 50-yard freestyle. Truong was also a part of the 200-yard freestyle and medley relay teams, along with Ashlyn Carroll '18, Sam Caro '18, and Evelyn Ngo '19, that advanced to the state competition. Diver Baron Close '18 earned bronze in his event, punching his ticket to State.
"I think State's sort of a celebration in a way of their accomplishments so I try not to put too much pressure on us, but I want to swim well," McBrearty said. " I think we can get the school record in two or three relays and a few individuals and that would be a huge deal. I just want them to swim well and enjoy it."
The coaches were recognized for their season as well; Coach McBrearty was named Region III-6A Coach of the Year.
"That's always weird for me," Coach McBrearty said. "It was flattering, but I'd rather the kids get all the attention than me."
The 6A Swim and Dive State Meet will take place on Feb. 16 and 17 at the Lee and Joe Jamail Texas Swim Center. As the last round of competition for the season, the seniors of the team look forward to cherishing the time spent with their teammates.
"It's kind of bittersweet; it's a lot of fun doing it with a team and a group of people that you enjoy being around, just because of who they are and what everyone's accomplished," Lane said. "It's such an emotional high that you're not going to get anywhere else. Everyday you look forward to always competing for it and it's something we all love."
Leave a Comment
About the Contributor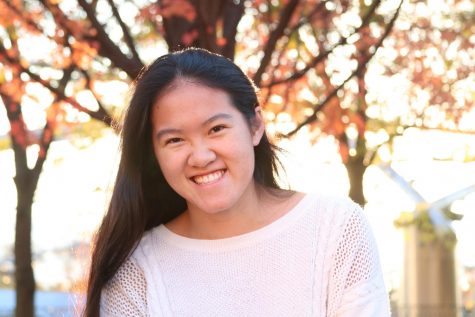 Emily Lu, Editor-in-Chief
I've always been a storyteller, and I fell in love with journalism as an outlet to express my voice and share stories. When I'm not in the newsroom, you...