Non-Varsity Bands Showcase Music in Pre-UIL Concert
The three non-varsity bands performed in a pre-UIL concert on Wednesday, March 21. The concert was performed for three judges, Mr. David Jennison, Mr. Jim Van Zandt, and Mr. Jack Green. The judges gave constructive criticism for each performance so the students could improve before their real UIL performance.
"I was really nervous for this concert because we had so little time to prepare," Connie Huang '21 said. "I'm also the only one playing an E-flat clarinet in one of our pieces while the others play on a B-flat clarinet, which was really scary."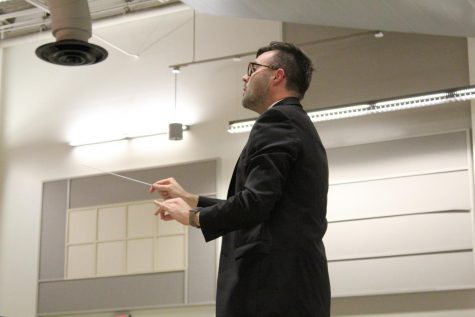 The first band to perform was the Concert Band, conducted by Mr. Thomas Turpin. Their first piece was Quality Plus, by Robert Longfield, followed by Mountain Dance, by Ed Kiefer. This piece featured a bass clarinet solo, played by Arionna Gordon '21. Their final piece, West Highland Sojourn, by Robert Sheldon, consisted of three movements: Stow-On-the-World, Bradford Ballade, and On Derwentwater.
"I think we performed really well today," Fiona Rabakukk-Langthorn '20 said. "Of course, there were some places that we can improve on, and with the judge's input we can really dive into those spots and have a successful UIL concert."
Next up to perform was the Symphonic Band, conducted by Ms. Brittany Dacy. Their first piece was Emblem of Unity, by J.J. Richards. Their second piece was Dancing on Water, by Frank Ticheli, followed by Puszta, by Jan Van der Roost, which consisted of four movements. This piece featured a clarinet solo, played by Emilio Penny '20.
"My favorite piece is definitely Puszta," Penny said. "There are so many different layers to it that make it really interesting to listen to, and it's really fun to play for everyone."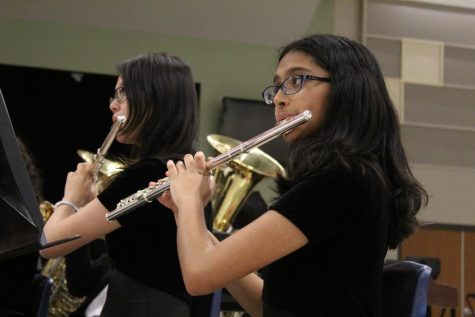 The last band of the night was the Wind Symphony, conducted by Mr. Turpin. Their first piece was From Tropic to Tropic by Russell Alexander, followed by Aurora Awakes, by John Mackey. This piece featured clarinet soloist, Bella Cowart '19, and flute soloist, Jonathan Xu '21. Their final piece was Molly on the Shore, by Percy Granger, which featured a saxophone and trumpet duet played by Edison Block '19 and Muhozi Nintunze '19.
"Playing tonight in front of judges as well as friends and family was a really good way to practice before our actual UIL contest," Cowart said. "We, the band, know what we have to work on, and we're ready to push through and give the best possible performance of these pieces that we can."