Varsity Tennis Conquers Westlake in Historic 10-4 Win
The varsity tennis team finally overtook Westlake's tennis team at their match on Aug. 28. With a 10 – 4 score, this is a major win for the team, as they've struggled to beat Westlake time and time again, and could potentially bring forth a new era of several victories to come.
"We prepare like we always do; we have a great practice beforehand and we work hard, but it's really been years and years of preparation. We know what Westlake brings to the table, and we knew that we had what it took this year to take it to them, and we played lights out," Coach Travis Dalrymple said.
While several exciting matches took place, teammates watching from outside the courts cheered loudly whenever a fellow teammate scored big. One singles match in particular, played by Daniel Antov '21, placed onlookers at the edge of their seats with an intense tiebreaker.
"Last year, I played the same guy, and I lost really close," Antov said. "This year, I destroyed him. That was a lot of fun."
The team this year has grown much more elite than previous years, and this has motivated the members to play to their full potential. Coach Dalrymple's expectations for his students are very high, and they didn't disappoint with these matches.
"I think we have the most potential we've had in a while because in the previous years we had a bunch of underclassmen and stuff, but now most of our team is older, and we're like in our prime time to get to State," Michelle Duan '19 said. "I thought it [my match] was good. Westlake's usually like our big competitor, so it's exciting that we're winning."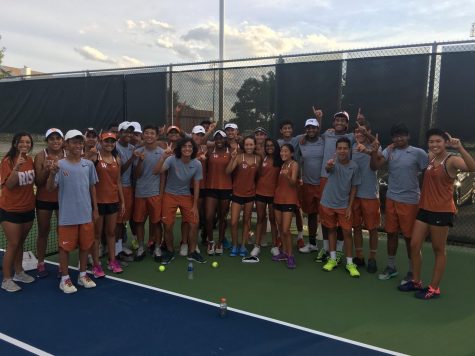 During the middle of the tournament, Principal Mario Acosta arrived to spectate for a short while. He was impressed with what he saw and especially happy about the victory against Westlake.
"Coach Dalrymple always puts together a great team, and we've got returning players, we've got a state champion returning in her junior year. Out here at the Westlake match, we're doing really well," Mr. Acosta said. "I expect nothing less, we've got a top 10 team, and I will assume they will continue. Now, we've got a new district this year, a tough district, so I'm anxious to see their work in the new district and playing against these new teams. We'll see if we can keep our district championship title."
With another victory behind them, the morale within the team is high. Now, they prepare to face Lake Travis on Sept. 5, and hope to conquer them like Westlake.
"I think [the game is] a great confidence builder, but I also think it puts a bigger target on our backs," Coach Dalrymple said. "More and more schools are gonna be coming at us, which we're excited about. The future is wide open and we're excited to reach out and grab it."